Bell and Howell to service autonomous pallet trucks and tow tractors for Seegrid customers across North America
DURHAM, N.C., Nov. 14, 2017 — Bell and Howell announced today that it has been selected by Seegrid, the leader in connected self-driving vehicles for materials handling, for technical service and support in North America. The partnership expands Seegrids service capabilities as the companys manufacturing and distribution customer base continues to grow.

Seegrid self-driving vision guided vehicles (VGVs) provide flexible and reliable material movement in large manufacturing plants and fulfillment centers. Bell and Howell supports Seegrids portfolio of VGVs, including the recently announced GP8 Series 6 self-driving pallet truck, which offers fully automated material movement from pickup to drop-off.
Bell and Howells service organization is among the most sophisticated in the world, excelling at robotics, production workflow, automation and industrial mechatronics. With more than 600 full-time field service personnel across the U.S., Bell and Howell is well-positioned to support Seegrid customers with exceptional service.
"Our self-driving vehicles increase throughput, improve facility safety, and reduce labor and operating costs for some of the worlds largest companies," Seegrid CEO Jim Rock said. "By partnering with Bell and Howell, we are ensuring that our customers continue to realize these benefits with the best service and support available."
As part of the agreement, Bell and Howell will manage Seegrids field inventory and provide services on products installed at customer sites in the U.S. and Canada. Bell and Howell, which is currently ranked among Training Magazines Top 100, will also provide technical training on Seegrids products at Bell and Howells headquarters in Durham, North Carolina.
"Bell and Howell will support Seegrids promise to deliver flexibility and reliability to its customers by leveraging both the latest technology and our extensive expertise and service capabilities," said Ramesh Ratan, Ph.D., Bell and Howells CEO. "Major brands in multiple industries are using Seegrids proven and unique platform for efficient and connected material movement. By teaming up with Bell and Howells service organization, hundreds of skilled customer service professionals will continue to ensure the success of Seegrids customers."
To learn more about Bell and Howell, visit bellhowell.net, call 1-800-220-3030, or follow the company on LinkedIn and Twitter.
###
About Bell and Howell
Bell and Howell is shaping the future of communications and commerce. We deliver innovative service and technology solutions that enrich customer communications and fulfillment for the worlds largest finance, industry and public sector enterprises. Our software and hardware streamlines high-volume, high-integrity production of customer communications and products, maximizes postal discounts, and monetizes every customer touchpoint. Our service organization is among the most sophisticated in the world for production workflow, automation and industrial mechatronics. Headquartered in Research Triangle Park, North Carolina, with offices around the world, Bell and Howell is the trusted partner to thousands of organizations globally. For additional information, visit www.bellhowell.net.
About Seegrid
Seegrid is the leading provider of connected self-driving vehicles for materials handling with hundreds of thousands of miles driven. The Seegrid Smart Platform combines flexible and reliable infrastructure-free vision guided vehicles with fleet management and enterprise intelligence data for a complete connected solution. Seegrid accelerates Industry 4.0 and lean initiatives with incremental automation, helping companies achieve a truly connected enterprise and transform into smart factories of the future. www.seegrid.com.
Featured Product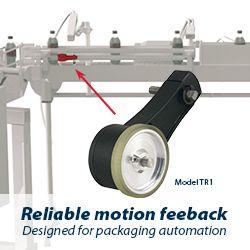 EPC is excited to announce our NEW online 3D Configurator. This new tool makes it even easier to configure EPC's products exactly how you need them for your application. The 3D Configurator interface is intuitive and works in any web browser for both desktop and mobile. It'll only take you a moment to learn your way around the program. Careful, though: it's so fun to play with, you may spend a whole afternoon on it!