Together with co-members BASF, British Telecom, Microsoft, NOKIA Bell Labs, Salesforce, Schlumberger, and Scotiabank, the initiative will work to provide real-world applications and drive impact in systems and machine learning
MONTREAL--(BUSINESS WIRE)--Element AI, an artificial intelligence company that delivers groundbreaking AI solutions, today announced it has joined the MIT CSAIL Systems That Learn initiative to accelerate the development, deployment, and evolution of large-scale software systems that incorporate machine learning and artificial intelligence. The goal of the Systems That Learn initiative is to accelerate the development of systems and applications that learn by combining MITs expertise in Systems and Machine Learning with select industry partners to address the hardest real-world business problems. MIT is uniquely positioned to accomplish this, through the rigorous research of their faculty coupled with a tradition of collaborating with industry to ensure work is both relevant and practical.

"Our grand vision is to create a new generation of AI tools that are deeply rooted in systems and that can make those systems better," said CSAIL Director Daniela Rus. "My aspiration is to get to a place where machine learning becomes a normal part of what an operating system does."
MITs Computer Science and Artificial Intelligence Laboratory (CSAIL) seeks to invent the future of computing and explore novel applications, enabling solutions to important national and global challenges. CSAIL is an innovative, passionate community that both drives the future of computing and harnesses its remarkable power. With more than 50 research groups working on hundreds of diverse projects, CSAIL researchers focus on discovering novel ways to make systems and machines smarter, easier to use, more secure, and more efficient.
"Developing capabilities in AI and machine learning are key to the future of fields like finance, energy, manufacturing, and health care," says STL Executive Director Lori Glover. "While the demand for expertise is great, the supply of talent remains small and unevenly distributed. By democratizing the field of AI, SystemsThatLearn@CSAIL is an effort to address that skills gap."
"Working with MIT alongside industry leaders in a shared mission to develop critical tools that will benefit all is what Element AI was born to do," said Element AI CEO Jean-François Gagné. "Joining forces with CSAIL will enable everyone to better identify and solve complex problems that can be solved with artificial intelligence. MIT represents some of the best academic expertise in the world; combining their abilities with industry talent and resources will undoubtedly foster huge technological advances."
About Element AI
Element AI delivers groundbreaking artificial intelligence solutions to enterprise companies, bringing together the best AI experts and top entrepreneurs to produce next generation AI capabilities for any organization. Element AI is headquartered in Montreal, Quebec and is funded by leading investors including BDC Capital, Data Collective, Fidelity Investments Canada, Hanwha Investment, Intel Capital, Microsoft Ventures, National Bank, NVIDIA GPU Ventures, Real Ventures, and Tencent. http://www.elementai.com
Featured Product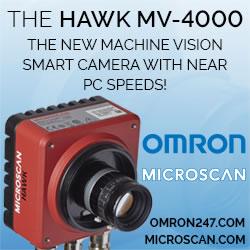 Awe-inspiring power and superior flexibility is sheathed within the contoured casing of the HAWK MV-4000. This smart camera builds upon the previous generation by quadrupling processing power and achieving real-time trigger response using an FPGA. Its state-of-the-art algorithms make it an excellent tool for any industry, whether the requirement be code reading, code verification, inspection, guidance, gauging or a combination of all four.