This year's design competition on the theme of Christmas trees is now over. Three lucky winners will receive prizes for their creations
Saint-Romain, France, 4 January 2018 - TraceParts, one of the world's leading providers of 3D digital content - and Item - the pioneer in building kit systems for industrial applications, teamed up to organize a competition for design professionals on the subject of Christmas trees.

The aim of the contest was to design a 3D Christmas tree using the millions of CAD models available for free on the TraceParts CAD-content platform.
Congratulations to the three winners, whose designs were selected for their creativity and originality.
They will be receiving their prizes soon:
Marisa.M has won the Xbox One X,
Jordane.J has won a Parrot Mambo FPV drone,
Jordan.H has won a Google Home smart speaker.
A big thank you to all the people who took part in this 11th annual TraceParts competition.
About TraceParts
TraceParts is one of the world's leading providers of 3D digital content for engineering. As part of the Trace Group founded in 1989, the company provides powerful web-based solutions, such as CAD part libraries, electronic catalogs and product configurators. TraceParts also provides digital marketing services to help part manufacturers, software publishers and computer hardware vendors promote their products and services and generate high-quality B2B sales leads.
The traceparts.com portal is available free-of-charge to millions of CAD users worldwide. It provides access to hundreds of supplier catalogs and more than 100 million CAD models and product data-sheets that are suited to design, purchasing, manufacturing and maintenance processes.
About Item
item is the pioneer in building kit systems for industrial applications and a global market leader. It has been designing and marketing construction solutions for machinery, fixtures and plants since 1976. Today, the item product portfolio comprises more than 3,000 high-quality components designed for use in machine bases, work benches, automation solutions and lean production applications. Because item designs all its products in-house, you can rest assured that every component carrying the item name is an original. With branches, sales partners and a comprehensive network of service centres in 35 countries worldwide, item can offer users continuous support and rapid product availability precisely where it is needed
Featured Product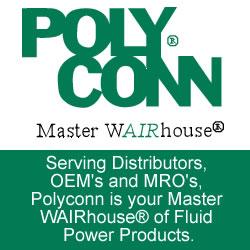 We can produce pneumatic hose and other pneumatic products to match your exact specifications. Our proficient engineering and quality management, coupled with outstanding customer service means Polyconn delivers high quality pneumatic components at competitive prices. Place your order or contact Polyconn for more information on our pneumatic hoses, pneumatic manifolds, Duratec® Pipe or any of our other top quality pneumatic products and components.