Innovation Lab "Retail 2020" Exhibit to Highlight Locus's Autonomous, Collaborative Robots in Immersive, Interactive Demonstration
WILMINGTON, Mass., Jan. 10, 2018 /PRNewswire/ -- Today, Locus Robotics (www.locusrobotics.com), the award-winning provider of autonomous, collaborative robots for use in e-commerce fulfillment warehouses, announced their participation at the National Retail Federation's annual convention, Retail's BIG Show, held from January 14-16 at the Jacob K. Javits Convention Center in New York, New York. Locus's nationally-acclaimed robots will be showcased at Booth #IL19 in the Innovation Lab's "Retail 2020" exhibit, which features technologies of the future that are transforming the way that retailers market, connect and serve their customers.

"Locus is excited to participate at NRF's Retail's BIG Show this year," said Rick Faulk, CEO of Locus. "It is a tremendous honor to be recognized as a technology leader alongside some of the retail industry's most accomplished companies and executives. We look forward to the event, and to continuing to improve e-commerce fulfillment efficiencies and throughput for retailers and third-party logistics (3PL) providers around the world."
The Locus booth will simulate a real warehouse environment, featuring a live demonstration showcasing how Locus's autonomous mobile robots work safely alongside workers in a space that is often highly congested and dynamic. Visitors entering the 'warehouse' will have the opportunity to interact directly with the robots to experience their unique collaborative qualities and efficiency benefits first-hand.
Locus's turnkey warehouse fulfillment solution enables retailers and 3PL providers to achieve more efficient e-commerce fulfillment operations, while simultaneously lowering labor costs and effectively managing seasonally fluctuating order volumes. Locus customers, which include DHL Supply Chain and Quiet Logistics, the 3PL that ships over $1 billion e-commerce orders a year for retailers including Zara, Bonobos, Glossier, and more, are already seeing doubling or tripling of fulfillment speed with near-100% accuracy, while saving 30% or more in operating expenses.
About Locus Robotics
Locus Robotics has quickly become the leading warehouse robotics provider for retailers and third-party logistics (3PL) operators looking to meet the shifting demands of the booming e-commerce market, expected to grow by 20% (CAGR) to become a $4 trillion global market by 2020 (Nielson). Locus's award-winning, innovative, autonomous robots work collaboratively alongside workers, helping them pick 100-200% faster, with near-100% accuracy, and less labor compared to traditional picking systems. This proven, powerful technology easily integrates into existing warehouse infrastructure without disrupting workflows. For more information, visit www.locusrobotics.com.
About the National Retail Federation (NRF) 2018 Retail's BIG Show
NRF's 2018 Retail's BIG Show is the retail industry's most important three-day conference, hosted from January 14-16 at the Jacob K. Javits Convention Center in New York, New York. The show brings together the largest gather of industry executives for unique discussions and demonstrations of the latest industry trends, giving attendees an unparalleled view into how retail brands of all sizes are transforming themselves for the digital age.
NRF is the world's largest retail trade association, representing discount and department stores, home goods and specialty stores, Main Street merchants, grocers, wholesalers, chain restaurants and Internet retailers from the United States and more than 45 countries.
About the Innovation Lab at NRF 2018
The Innovation Lab at NRF 2018 will highlight the technologies that are transforming retail through two dynamic exhibits and a series of educational presentations. Located in the River Pavilion, visitors will be able to demo the latest and greatest in retail tech, as well as hear from cutting edge solution providers through educational sessions. For more information, visit https://nrfbigshow.nrf.com/innovation-lab.
Featured Product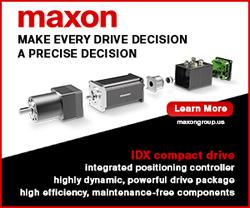 A brushless DC motor solution for use in hip and knee exoskeletons. This complete joint actuation unit consists of motor, gearhead, encoder and position controller. Fitting absolute encoder directly at the joint rotation provides designers increased positioning accuracy. The unit will deliver 54Nm of continuous torque and 120Nm on a 20% duty cycle. The system can be operated on supplies between 10 and 50V DC and the actuation speed is up to 22rpm.