The Wearable Robotics Association (WearRA) is inviting entries that represent the most innovative new ideas in wearable robotic technology for the Annual Innovation Challenge at WearRAcon 18. The winner will receive $5,000 to support development and commercialization of the technology.
The Wearable Robotics Association (WearRA) is excited to announce the third annual Innovation Challenge at WearRAcon. Anybody from solo developers to small companies have the opportunity to show their prototypes and ideas in front of the movers and shakers of the exoskeleton industry!

"We enjoyed sponsoring the Innovation Challenge at WearRAcon 17 and look forward to seeing what's new in 2018," said Sean Pettersen, Founder and CEO, StrongArm Technologies. "As a judge, I have the unique opportunity to see first-hand the up and coming technologies in the wearable robotics industry."
All entries will be examined by a panel of wearable robotics experts. Finalists will be selected to present at WearRAcon 18(Scottsdale, Arizona, March 21-23, 2018). WearRA would like to thank the Innovation Challenge Sponsors: StrongArm Technologies and ASU's Ira A. Fulton School of Engineering.
Click here for more information: http://www.wearablerobotics.com/wearracon-18/program/innovation-competition/
SUBMISSION DEADLINE: February 1, 2018.
About WearRA:
The Wearable Robotics Association (WearRA) is the only professional association dedicated to the entrepreneurs, businesses and academics fueling the wearable robotics industry. WearRA provides a forum for the wearable robotics community to share ideas and collaborate in a way that expands and improves the ecosystem of technologies and participants. The group's mission is to shape a global future leveraging technology in a purposeful and synergetic fashion to improve quality of life and accelerate the advent of transformative human capabilities. http://wearablerobotics.com/about-us/
Featured Product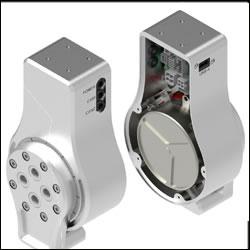 A brushless DC motor solution for use in hip and knee exoskeletons. This complete joint actuation unit consists of motor, gearhead, encoder and position controller. Fitting absolute encoder directly at the joint rotation provides designers increased positioning accuracy. The unit will deliver 54Nm of continuous torque and 120Nm on a 20% duty cycle. The system can be operated on supplies between 10 and 50V DC and the actuation speed is up to 22rpm.