Epson Robots will be showcasing unique, innovative, high precision robotics solutions designed for maximum efficiency and productivity for a wide variety of applications in factory automation at the Automation Technology show, ATX West.
Epson Robots to Demonstrate Innovative and Highly Efficient Robotics Solutions for the Factory Automation Industry at ATX West

Epson Robots Expert to Educate Attendees on How to Get Started on Robot Automation
MEDIA ALERT: Carson, CA - Jan. 29, 2018
Who: Epson Robots will be showcasing unique, innovative, high precision robotics solutions designed for maximum efficiency and productivity for a wide variety of applications in factory automation at the Automation Technology show, ATX West.
What: The showcase will feature the new T3 All-in-One SCARA robot, the Flexion™ N2 6-Axis robot as well other high precision robots for small parts assembly in industries ranging from automotive and medical development, to lab automation, consumer electronics, electronic components and industrial.
Epson will also lead a discussion on how to get started on automation.
Showcase
The new T3 All-in-One SCARA robot comes with a built-in controller, a new technology feature that reduces space requirements and simplifies setup at an ultra-low cost. It offers an easy-to-install and fast integration solution perfect for simple applications such as pick and place, assembly, parts handling and dispensing. It is ideal for customers looking to automate their factory without wasting time or money on complex slide-based solutions.
The Flexion N2 6-Axis space-saving robot features the worlds first compact folding arm design which reduces required workspace up to 40 percent compared to standard 6-Axis robots similar in size and payload capability. It meets the increasingly high demands for efficient movement and precise placement and offers a tight-space motion capability for applications in advanced manufacturing that need smaller robots and workcells.
The G6 SCARA robot delivers fast cycle times, perfect for applications that require high speed and/or high precision. It features a high-rigidity arm design, which helps reduce vibration and deliver fast speeds and high precision with no overshoot or ringing. The Max-E envelope design delivers maximum motion range, allowing the robot to do jobs that normally require much larger arms. The smaller footprint translates to less factory space requirements and lower overall factory costs, helping manufacturers to stay competitive.
The C8 6-Axis provides high performance in a slimline design. Compact, yet powerful, with high repeatability and fast cycle times, C8 robots are ideal for demanding applications requiring 6-Axis dexterity. Featuring a compact wrist for efficient motion in tight spaces, a long arm for greater reach, and a compact elbow for optimum workcell layout, these robots have a wide range of motion, so parts can be accessed from virtually any angle.
Center Stage Presentation
Rick Brookshire, Group Product Manager Epson Robots, will present "The Starting Point for Robot Automation: A Beginners Tour." This presentation will serve well as a starting point for those new to automation. Attendees will come away with a good understanding on how to get started with robotics in automation and the key aspects to consider.
When: ATX East takes place from Feb. 6 to 8, 2018.
Epsons presentation takes place on Wed. Feb. 7 from 1 pm until 1:45 pm on the Center Stage.
Where: Anaheim Convention Center, Anaheim Calif., Epson booth 4109
About Epson Robots
Epson Robots is a global leader in precision factory automation, with an installed base of well over 55,000 robots worldwide and a product line of hundreds of models of easy to use SCARA, Cartesian and 6-Axis robots based on a common PC based platform. Building on a 35+ year heritage, Epson Robots today delivers robots for precision assembly and material handling applications in the aerospace, appliance, automotive, biotechnology, consumer product, electronics, food processing, medical device, pharmaceutical, plastics, semiconductor, and telecommunication industries. For more information, visit www.epsonrobots.com
About Epson
Epson is a global technology leader dedicated to connecting people, things and information with its original efficient, compact and precision technologies. With a lineup that ranges from inkjet printers and digital printing systems to 3LCD projectors, smart glasses, sensing systems and industrial robots, the company is focused on driving innovations and exceeding customer expectations in inkjet, visual communications, wearables and robotics.
Led by the Japan-based Seiko Epson Corporation, the Epson Group comprises more than 80,000 employees in 86 companies around the world, and is proud of its contributions to the communities in which it operates and its ongoing efforts to reduce environmental impacts.
Epson America, Inc., based in Long Beach, Calif., is Epsons regional headquarters for the U.S., Canada, and Latin America. To learn more about Epson, please visit: epson.com. You may also connect with Epson America on Facebook (facebook.com/Epson), Twitter (twitter.com/EpsonAmerica), YouTube (youtube.com/EpsonAmerica), and Instagram (instagram.com/EpsonAmerica).
# # #
Note: EPSON is a registered trademark and EPSON Exceed Your Vision is a registered logomark of Seiko Epson Corporation. Flexion is a trademark of Epson America, Inc. All other product brand names are trademarks and/or registered trademarks of their respective companies. Epson disclaims any and all rights in these marks.
Featured Product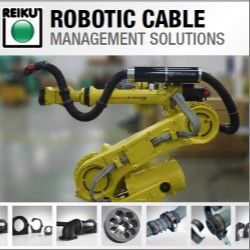 REIKU's Cable Saver™ Solution eliminates downtime, loss of revenue, expensive cable and hose replacement costs, maintenance labour costs. It's available in three sizes 36, 52 and 70 mm. All of the robots cables and hoses are protected when routed through the Cable Saver™ corrugated tubing. The Cable Saver™ uses a spring retraction system housed inside the Energy Tube™ to keep this service loop out of harms way in safe location at the rear of the Robot when not required. The Cable Saver™ is a COMPLETE solution for any make or model of robot. It installs quickly-on either side of the robot and has been tested to resist over 15 million repetitive cycles.