Strong International Demand Serves as Primary Driver for Facility Expansion
Applied Aeronautics, a leading provider of affordable commercial drones, today announced their Albatross UAV is operating on all seven continents and in over 40 countries. In response to growing demand for their products across both the private and public sectors, Applied Aeronautics will double its production capacity in Q2 of this year, marking its second facility expansion in the past 18 months.

"Our hardworking team, increased international outreach, and dedication to our clients were critical to our growth and success last year," remarked Ryan Johnston, CEO. "This latest expansion will allow us to keep pace with increasing demand for our long-range UAVs and accessories as well continue to deploy an aggressive new product development program."
Applied Aeronautics COO, Meg Annand added, "We take great pride in our commitment to making UAVs more broadly accessible from both a global and economic standpoint and are grateful that customer demand for our Albatross necessitates a second expansion of our production facility. We look forward to reaching further into the burgeoning network of innovative businesses utilizing UAV technology in coming months."
In addition to doubling production capacity, Applied Aeronautics is investing in further developments to their Albatross UAV, as well as new products that will augment current offerings.
About Applied Aeronautics
Applied Aeronautics is a US-based UAV manufacturer, specializing in affordable, long-range composite solutions. Applied Aeronautics' flagship product, The Albatross, is a modular, electric fixed wing UAV designed for use in most industries, ranging from agriculture and research to disaster management and defense. This entirely customizable solution was engineered for accessibility, to meet a growing demand for a professional UAV that married robust capabilities with an affordable price point. For more information on Applied Aeronautics, please visit http://www.AppliedAeronautics.com
Featured Product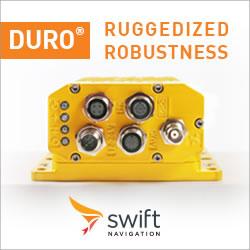 Duro® is a ruggedized version of the Piksi® Multi RTK GNSS receiver from Swift Navigation. Built to be tough, Duro is ideal for robotics applications and is designed for integration into existing equipment. This affordable, easy-to-deploy GNSS sensor is protected against weather, moisture, vibration, dust, water immersion and the unexpected that can occur in outdoor long-term deployments. Download the Duro vibration testing white paper from Swift Navigation.