Together, the two companies can bundle and offer the most advanced and cost effective tugger with the most reputable and innovative cart delivery solutions on the market.
CAMBRIDGE, Mass., March 06, 2018 (GLOBE NEWSWIRE) -- Vecna Robotics, a recognized leader in next-generation robotics and autonomous fleet vehicles, announced today a partnership with Topper Industrial, a leading manufacturer in fork truck free cart delivery equipment and material handling solutions. Together, the two companies can bundle and offer the most advanced and cost effective tugger with the most reputable and innovative cart delivery solutions on the market.

John Hayes, Vice President of Sales and Marketing of Vecna Robotics, said his company is excited to have Topper Industrial cart solutions be made available to the companys end users through the partnership. "Topper can create effective material flow by utilizing custom built carts that meet very specific needs. Our tugger, which easily handles up to 4500kg, can operate in autonomous mode or be manually operated with the flip of a switch. Working together with Topper carts, we will create the best custom material flow for companies seeking best in class solutions." The RT4500kg autonomous tugger is built to maximize productivity by automating point-to-point transportation of large payloads using cart delivery.
Ryan Brown, President of Topper Industrial stated, "Topper is proud to have a strong counterpart in automation that has 20 years of experience developing advanced technologies and has brought vast improvements to tuggers and the automated guided vehicle (AGV) market. By using Vecna Robotics autonomous RT4500 tugger and Topper Industrials various cart delivery solutions, companies spanning multiple markets will reap an array of benefits that are achieved when implementing a tugger and cart delivery system."
Vecna Robotics will exhibit at MODEX in Atlanta, GA from April 9-12 at booth B4987. Topper Industrial will exhibit at MODEX at booth B4475.
About Vecna Robotics
Vecna Robotics is a leader in next generation, material handling autonomous ground vehicles (AGVs) and mobile robots. Vecna Robotics offers end-to-end, cost-effective automation that improves throughput in distribution and fulfillment, helping companies better compete in todays fast-paced, customer-driven economy. Vecna Robotics mixed fleet of case picking, goods-to-person, person-to-goods, robot-conveyor hybrid material handling systems are field-proven and supported by a robust, proprietary 24/7 IIoT Monitoring platform and Artificial Intelligence-based Core Task Manager to coordinate optimal material flows across operations.
Vecna Robotics is a subsidiary of Vecna Technologies, which was founded in 1998 in Cambridge, Mass. with a mission to empower humanity through transformative technologies. The company is dedicated to corporate citizenship and has donated more than 170,000 hours of community service.
Featured Product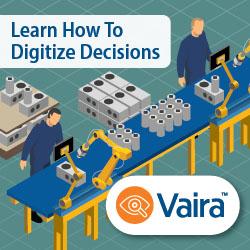 Pleora's Visual Inspection System helps operators detect errors and defects for unique component types, assembly steps, and custom low-run products where automated optical inspection (AOI) is too complex and expensive. The system helps DICA Electronics: Avoid costly, errors as a result of detecting errors at different phases in production, Speed time in detecting the root cause of the in-field errors with Tracking & Reporting apps for traceability, Maintain consistency in training new employees on requirements or with staff any time a new product is added, Easily train the system using 'good product' images for multiple product lines with no programming skills required, Reduce subjective decision-making, especially over a long shift, reducing error-escapes.