SS Innovations develops next-generation robotic surgical hardware and surgeon command center using Energids Actin® software for advanced real-time motion control
Cambridge, Massachusetts and Hangzhou, China (June 6, 2018) - Despite decades of successful robotic-assisted surgeries in the US that have positively impacted millions of patients, there is still limited access to this technology in developing countries. The reason, according to Dr. Sudhir Srivastava, founder and CEO of SS Innovations (SSI), is related to the affordability and complexity of existing robotic surgery systems. These are the challenges that SSI is tackling head-on. Dr. Srivastava and his team recently took an important step forward in demonstrating core functionality of a modular robotic surgical system, using Energid Technologies Actin® robotics control toolkit to quickly and cost-effectively develop the critical motion control software for the robots.

"Current robotic systems are far too expensive and take years to master, which means that very few surgeons are trained to operate these systems and much of the world is unable to access this technology," said Dr. Srivastava, one of the early pioneers in minimally invasive and robotic cardiac surgery who has performed over 1,400 robotic cardiac surgical procedures.
Affordable surgical robot must be versatile and easy to use
Dr. Srivastavas goal is to build an affordable surgical robot that is easier for surgeons to use and provides superior outcomes for patients.
"We chose Actin for its power and versatility, allowing us to achieve our vision of a modular surgical robot and bring it to market quickly," said Dr. Srivastava.
"Creating surgical robot control software from scratch continues to be a major technical challenge and barrier to entry for new surgical robotics companies," said Neil Tardella, Energids CEO. "Complex robotic systems require advanced real-time control capable of responding to dynamic environments. Thats what Actin does extremely well."
Actin control toolkit allows development team to focus on robot hardware and surgeon command center
Leveraging Energids Actin software to tackle the complex motion-control problem freed the SSI team to focus on creating robot hardware and a surgeon command center to address core clinical use cases. SSIs recent successful technical validation—in which the SSI Mantra system was tested on 10 animals for one exploratory laparotomy and nine cholecystectomy procedures —showed that its efforts are paying off.
The surgeon command center has two adaptable master hand controllers with an extended range of motion to accommodate any surgeon, big or small. Designed for comfort and ergonomics, the surgeon command center includes a large 3D display that allows the surgeon to sit in a natural upright position. The modular hardware is comprised of four highly dexterous robots that can be attached to the operating table or mobile stands nearby.
Software for advanced motion control enables a lower cost and modular surgical robot
An innovation in the SSI system is the use of a software-enforced remote center of motion (RCM). The RCM keeps the surgical instruments stationary at the entry incisions used in minimally invasive "keyhole" surgery. At the incisions, the surgical instrument can move in and out and pivot, but not translate side to side.
Creating the RCMs in software, rather than hardware, makes the system flexible, allowing the modular robots to be configured differently according to the operation. Advanced motion-control software enables the robots to avoid collisions while performing the required surgical tasks and maintaining the RCM constraint.
"Operating a surgical robot requires coordination of many degrees of freedom, application of unique motion constraints such as an RCM, and low-latency response to the surgeons hand motions," said Douglas Barker, Energid COO, who is leading the software integration effort. "Actin software simplifies these technical challenges, which will help get these kinds of advanced robotics technologies to market more quickly and less expensively."
See the Actin demonstration at the Energid booth #121836 at the International Manufacturing Technology Show (IMTS) September 10-15, 2018, McCormick Place, Chicago, IL.
For additional information, contact Lacey Trebaol, (888) 547-4100 x 444
About Energid Technologies
Established in 2001 and headquartered in Cambridge, Massachusetts, United States, Energid Technologies develops advanced real-time motion control software for robotics. Energids general robot control and tasking framework, Actin®, is built to meet the rigorous requirements of industrial, commercial, collaborative, and consumer robotic systems. Energid licenses Actin as a cross-platform software toolkit and provides integration services to help its customers get to market quickly.
In 2018, Energid was acquired by Teradyne. Teradyne is the leading supplier of automated test equipment used to test semiconductors, wireless products, data storage, and complex electronic systems. Energid continues operations under the same management and Energids headquarters, R&D, and engineering facilities remain in Massachusetts, USA.
About SS Innovations
SS Innovations is improving the quality of robotic surgical systems. Founder and CEO, Dr. Sudhir Srivastava, has made it his personal mission to find ways to improve accessibility to robotic surgical procedures through the union of clinical experience, patient outreach, and technology development. At SS Innovations, research and development are advanced with a focus on patients, across the world, benefitting from new technologies. http://www.ssinnovations.org/
Featured Product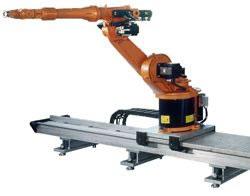 IPR Robotics offers a wide range of servo-driven 7th axis linear rails for industrial robots. These rails come in ten different sizes and are constructed from modular high strength extruded aluminum sections to handle payloads of 100 kg to 1600 kg or from steel to handle 2000 kg payloads. This variety of rail sizes allows each application to be sized correctly, controlling the space required and the price point. The drive train design of these rails utilizes helical gear-racks and is proven over 10 years to be repeatable and reliable, even in tough foundry applications.