ABB introduces its new innovative digital technology at ACHEMA, offering process industries lower costs, reduced risks and improved schedule along with the ability to adapt to changing consumer demands.
ABB introduces its new innovative digital technology at ACHEMA, offering process industries lower costs, reduced risks and improved schedule along with the ability to adapt to changing consumer demands.

This is the first solution to combine an orchestration layer and a module layer integrated with the technology of module type packages (MTPs).
With the ongoing need for personalized medicines, products with short production campaigns or smaller volumes of multiple products, traditional automation systems can be inflexible. ABBs new modular automation system provides the flexibility that is needed through a building block approach that can be scaled up or down depending on the production demand.
The new modular automation system is ideal for pharmaceutical plants, biotech manufacturers, fine chemical factories and food and beverage industries. It is the first time that ABB offers a solution based on the modular automation concept to automate and orchestrate intelligent modules tailored to the plants manufacturing needs. The new solution also offers seamless integration with many existing systems, offering less downtime during implementation. The result is less support and troubleshooting and an improvement of run-time within the plant.
"As an automation leader, ABB is already involved in every aspect of process automation, offering machine controls, PLCs and other control technologies. It is a natural progression for us to be at the forefront of modular automation technology. Our solution offers the industry a new, one-stop shop approach which will encourage customers to think differently about how they build their process lines," says ABBs Gero Lustig, Global Business Manager Life Sciences.
The module layer contains a number of intelligent modules described as standardized MTP technology, each of which has different facets including human-machine interface (HMI), services for supervisory control, history, diagnostics and archiving. Within the intelligent modules, controllers from ABBs Freelance range are implemented using MTP technology.
These pre-automated intelligent modules can be easily added, arranged and adjusted according to production needs.
The orchestration layer is a combination of operations and supervisory control of the modules. ABB AbilityTM System 800xA operates the process and orchestrates the intelligent modules. The system also enables fast and flexible integration of the modules.
"With System 800xA we already have solutions for world-scale production and now we have enabled our technology to interface with smaller, independent modules," says Lustig. "This provides the building block approach which defines modular automation."
The System 800xA operations HMI functionality is enabled for operator effectiveness which allows for quick and intuitive decisions based on rapid access to data. Batch management applications can be used to improve batch production. Efficient alarm management and a high capacity and secure data storage for processing information is also available.
An open architecture backbone links the orchestration layer to the module layer with communication via OPC UA. Modular enabled automation reduces cost, risk and schedule by eliminating the non-standard interfaces. Integrating an intelligent module into the orchestration system is a matter of hours compared to days for a traditional package unit and skid integration.
ABB (ABBN: SIX Swiss Ex) is a pioneering technology leader in electrification products, robotics and motion, industrial automation and power grids, serving customers in utilities, industry and transport & infrastructure globally. Continuing a history of innovation spanning more than 130 years, ABB today is writing the future of industrial digitalization with two clear value propositions: bringing electricity from any power plant to any plug and automating industries from natural resources to finished products. As title partner of Formula E, the fully electric international FIA motorsport class, ABB is pushing the boundaries of e-mobility to contribute to a sustainable future. ABB operates in more than 100 countries with about 135,000 employees. www.abb.com
Featured Product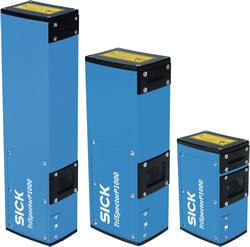 Take your quality inspections to the next level with tailor-made 3D solutions from SICK, Inc. The TriSpector1000 is a stand-alone, configurable 3D vision sensor that reliably inspects objects regardless of variations in color, height, shape, or position. It is suited for solving quality control issues and can be used for volume & thickness measurement and inspection of box integrity. Check out SICK's quality inspection solutions at Pack Expo 2019 in Booth #LS-6419.