Patti Engineerings CEO Sam Hoff will co-host technical sessions to share expertise on how to choose a system integrator and implementing manufacturing automation and measuring return on investment.
Auburn Hills, MI - June 13, 2018 - Patti Engineering, Inc., a leading control system integration company based in Auburn Hills, MI with offices in Texas and Indiana, today announced the details of its participation in the Robotics and AI Summit hosted by Robotics Business Review at the Boston Convention & Exhibition Center. CEO Sam Hoff will serve as a robotics and industry 4.0 system integration expert for two conference sessions on Monday, June 18 and Tuesday, June 19, 2018.

The Robotics & AI Summit brings together manufacturing executives, strategists, analysts, managers, developers, and engineers from companies of all sizes to learn the latest robotics and artificial intelligence (AI) technology and industry trends. At the event, which is part of RoboBusiness 2018, more than 2000 attendees take advantage of over 120 educational seminars, 80 exhibits showcasing emerging technologies, the Start-Up Incubation Center, and the Pitchfire Start-Up Competition.
Patti Engineerings Founder and CEO Sam Hoff will co-host a technical session entitled "ROI Strategies: Implementing Automation and Measuring ROI," which will take place on Monday, June 18, 2018 at 2:30 pm at the Boston Convention & Exhibition Center. Hoff and the five-member panel will discuss how to calculate the return on investment (ROI) of manufacturing automation and Industrial Internet of Things (IIoT) projects. In addition, the panel will cover planning and decision making for Industry 4.0 automation projects.
"Before committing funds to capital expenditure automation projects, manufacturers need to understand the costs and expected return on investment," said Hoff. "As a system integrator, Patti Engineering understands the total cost of ownership of automated equipment. We can help attendees make more intelligent choices of which projects to embark on, and which ones to leave on the drawing board."
Hoff will also present "How to Choose an Integrator" on Tuesday, June 19, 2018 at 11:30 am to share insights on how to find a partner for the design and implementation of manufacturing automation projects. Hoffs unique perspective as the founder of Patti Engineering will teach attendees how to differentiate between firms and find a partner you can be successful with.
To learn more and register, visit www.robobusiness.com/robotics-and-ai-summit.
Patti Engineering has a proven track record of delivering successful results across a range of industries. Customer satisfaction and project success earned the company Control Engineering Magazines '2013 System Integrator of the Year, and placement in the Control Engineering Magazines Hall of Fame. The company is a CSIA Certified control system integrator and a recognized partner to many automation technology companies. Patti Engineering was named the first Siemens MindSphere Hybrid OT Partner and is an Authorized Mitsubishi Integrator, in addition to being in the integrator programs for FANUC Robotics, and Keyence factory automation products.
About Patti Engineering, Inc.
Patti Engineering, Inc. is a CSIA Certified control systems integration company offering high-caliber engineering and software development services. Patti Engineerings technical expertise in electrical control and information systems provides turnkey control systems integration for design/build, upgrade/retrofit and asset/energy management projects. Industrial automation, production intelligence and shop floor IT solutions services include: project management, electrical engineering, hardware design, hardware procurement, software development, installation, calibration, start-up testing, verification, documentation, training and warranty support. Customer satisfaction and project success earned the company placement in the Control Engineering Magazines Hall of Fame. For more information, visit http://www.pattieng.com.
Featured Product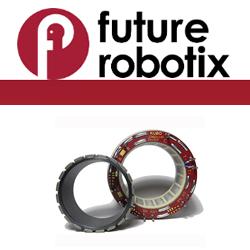 High power density, Compact size and low weight, Hollow shaft design, 35,000+ hours service life, 1-year warranty, with high rpms/ torque these pair perfectly with strain-wave gears. Available in sizes 41mm - 96mm.