Technology thought leaders to discuss and demonstrate live autonomous robotics for land, air and sea
PHILADELPHIA - June 14, 2018 - Rajant, a leading provider of mobile wireless mesh networks used in the application of autonomous robots and drones, will host thought leaders and experts in robotics, artificial intelligence (AI) and automation on June 21, 2018.

The Greater Philadelphia Autonomy Summit brings together innovators from the metro area and across the country for engaging discussions and interactive live demonstrations, while celebrating the grand opening of Philadelphia-based Rajants new global headquarters in Malvern, Pennsylvania.
"Autonomy is a major part of the next wave of innovation coming out of Philadelphia, and Rajant is honored to be a part of the technology community here because autonomous applications cannot function without reliable wireless connectivity and real-time data," said Bob Schena, CEO and co-founder of Rajant. "Rajants Kinetic Mesh network gives industries looking to enable autonomy and move toward the industrial Internet of Things (IIoT) a fully mobile, scalable and secure network infrastructure they can rely on."
The Greater Philadelphia Autonomy Summit will include such highlights as:
• Keynote speaker Jonas Cleveland, AI Entrepreneur and CEO of COSY, a Philadelphia-based robotics company
• Jared Pratt, vice president of business development for Autonomous Solutions Inc. (ASI), showcasing vehicle automation for an array of industrial applications
• Meet-and-greet with JD Claridge, a Shark Tank entrepreneur and CEO of xCraft, showcasing his x2i/x2Pro in action
• Robotics demonstrations from companies like Fly Asylon and WAM-V
• Rajants wireless mesh networks providing mobile communications to power autonomous drones
"The Greater Philadelphia Autonomy Summit is an opportunity for us to build awareness about why communications for robotic, autonomous systems are a critical enabler and requirement for successful delivery of our programs," said Jared Pratt, vice president of business development for ASI. "Wireless mesh networks from Rajant work awesome in the very demanding environments ASI serves, such as mining and farming."
The event venue, Rajants new headquarters, exemplifies Rajants global growth, high-tech advancement and local commitment to the Philadelphia metro area. The minimalistic 28,000-square-foot space includes offices and warehousing as well as a Prototype Development Room for machining and 3D printing, and an Open Lab for compliance and thermal testing.
"Our new headquarters gives our Malvern technologists plenty of space in which to innovate, experiment and produce - and even gives us room to grow. We anticipate hiring approximately 40 new employees based out of this headquarters," Schena said.
Rajants new headquarters is located at 200 Chesterfield Parkway in Malvern.
For more information about this and other events, visit www.rajant.com or follow Rajant on LinkedIn and Twitter.
For media interested in attending the event, contact Mary Beth Nevulis at Tech Image on behalf of Rajant at (312) 673-6062 or marybeth.nevulis@techimage.com.
Featured Product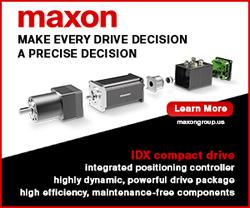 A brushless DC motor solution for use in hip and knee exoskeletons. This complete joint actuation unit consists of motor, gearhead, encoder and position controller. Fitting absolute encoder directly at the joint rotation provides designers increased positioning accuracy. The unit will deliver 54Nm of continuous torque and 120Nm on a 20% duty cycle. The system can be operated on supplies between 10 and 50V DC and the actuation speed is up to 22rpm.