Norway company finds corrosion-resistant, maintenance-free plastics up to challenge
JUNE 12, 2018 - An offshore drilling company from Norway is using energy chains from igus to help provide a reliable power supply under extreme conditions for automated drilling operations on platforms.

Robotic Drilling Systems AS in Stavanger, Norway - a central city in the European oil industry - has developed robots with the goal of achieving a fully-automated drill floor operation of oil rigs. More and more processes in the oil drilling industry are becoming automated in order to achieve higher clock speeds, relieve people from demanding physical work and save money. Oil platform drilling is one of the most dangerous occupations in the world, as workers must contend with extraordinarily high waves, storms with high winds, oil, mud, and rain. Drill pipes are driven from the uphole, unscrewed and then reassembled under heavy pressure.
The robotic systems must stand up against salt water, corrosion, mechanical stress and, frequently, extreme temperatures. In addition, the work processes on an oil rig are so complex that up to 100 axes need to be coordinated in the handling of the drill pipe. Energy, media, and signals must be guided reliably to the grippers of the robot.
A core component: a heavy-duty robot
RDS has developed a family of robots to undertake subtasks of automated drilling. Its primary piece of equipment is a "drill floor" heavy-duty, six-axis robot with a load capacity of 1,500 kilograms, which is handled by a three-meter robotic arm and a newly-developed gripper.
The fully-automated pipe handler takes out the segments from a storage system or from a conveyor on deck and supplies them to the robot. Another RDS robot system, "the electric roughneck," and a pipe handling robot support the heavy-duty robot in handling and comprise the robot "stand."
The systems work together to ensure the entire drilling process is carried out without human intervention. RDS claims the system operates up to 40 percent faster and saves between $10-20 million annually.
Rotary module, energy chain deliver energy and signal
The seventh axis of the drill floor robot is a heavy-duty linear system, upon which the entire robot moves. Engineers were challenged to provide moving energy and signal supply in extremely confined spaces. The axis also needs high explosion protection.
For the linear movement of the seventh axis, the energy supply could be delivered with lightweight energy chains made of plastic. The e-chains have proven themselves in numerous similar applications and enable the simultaneous guiding of cables for energy, data, and media. The more difficult challenge for design engineers was supplying the rotational axis of the robot base with energy and signal supply.
Rotary module operates with reverse bending radius
A rotary module by igus solves the energy and signal supply dilemma. The module is an energy chain that is side mounted and operates with a reverse bending radius (RBR). This means that the chain links can move in both directions, unlike conventional linear travels. The cables and hoses are securely guided in the chain with locking separators, and the chain operates in a round guide trough.
The rotary module is integrated into the robot housing. The design required complex engineering due to the limited space within the housing. igus Project Engineering division designed the feature.
Chainflex cables from igus, which are certified for fire hazardous areas and meet NEK 606 standards, are used next to the rotary module. The cables are developed for moving applications and are remarkable for their long service life even under extreme conditions. For all cables in the range, igus guarantees a life of 36 months and 403 cables in the range have already been certified according to DNV GL, a global agency dedicated quality assurance and risk management company.
The energy chains are delivered in Stavanger assembled as "ready chain" systems, including connectors, which helps ease installation. It also ensures that all ports and connectors meet the special requirements of electrical explosion and protection. The maintenance-free plastic energy chains also offer superior corrosion resistance.
Depending on customer requirements, igus undertakes all activities from planning up to complete installation on site, even on the high seas. igus service staff is certified for working on oil rigs.
Vertical movement
Components from igus are used in the other automation units of the unmanned oil drilling process. Energy chains are used on the "electric roughneck" and the "pipe handler." They are installed on the masts, which are the vertical axes of handling systems where the "stand" is taken from the storage and supplied to the central robot.
Freedom from maintenance, resistance to saltwater, and withstanding mechanical stresses as well as explosion-proof and offshore approvals are critical in the selection of the components used in the robots.
"It is important for us to purchase components for the robot from one source and get them ready for installation, said Jimmy Bostrom, Chief Operating Officer at Robotic Drilling Systems. "The systems should also be as maintenance-free as possible. This is ensured by igus."
The robot system developed by RDS for oil drilling is suitable for installation on new rigs and retrofits. It also establishes new guidelines for assessing the profitability of exploration projects, an important factor given the price of oil.
The development has generated interest from the beginning and led to the participation of reputable drilling companies in RDS. The jury of the vector awards initiated by igus were so impressed by the application that they awarded the system with the 2016 golden vector award.
After extensive testing, a first practical installation was put into operation in September 2015 on a rig in Norway. The entire oil drilling industry is monitoring the project, which makes the work on oil platforms faster, less expensive and most importantly, safe.
About igus®
igus® develops industry-leading energy chain® cable carriers, chainflex® continuous-flex cables, drylin® linear bearings and linear guides, iglide® plastic bushings, and igubal® spherical bearings. These seemingly unrelated products are linked together through a belief in making functionally advanced, yet affordable plastic components and assemblies. With plastic bearing experience since 1964, cable carrier experience since 1971 and continuous-flex cables since 1989, igus provides the right solution from over 100,000 products available from stock. No minimum order required. For more information, contact igus at 1-800-521-2747 or visit www.igus.com.
Featured Product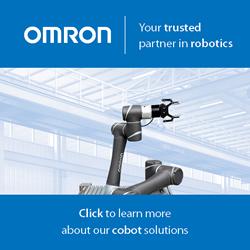 Our fully autonomous intelligent vehicles will help you to transform the way you move materials and route your workflows. Increase throughput, eliminate material flow errors, improve traceability, maximize flexibility and allow your employees to focus on higher level tasks. Unlike traditional AGV's, our mobile robotics navigate using the natural features of your facility and do not require expensive facility modifications or guidance. Our AIV's can adapt to changes in their environment and work freely and safely with your staff. Our mobile robots are intelligent enough to quickly learn their environment and then automatically find the optimal path to where they need to go. They also automatically make adjust for dynamic environments and can work together in fleets of up to 100 robots.