In addition, the Chicago Tribune named FANUC Americas Hoffman Estates, IL regional office one of Illinois top workplaces.
FANUC America Corporation is one of Michigans top workplaces according to the Detroit Free Press. This marks the seventh consecutive year that FANUC has achieved this distinction. In addition, the Chicago Tribune named FANUC Americas Hoffman Estates, IL regional office one of Illinois top workplaces.

"This has been an exciting year for us, and being named a top workplace in Michigan and Illinois means that our extremely talented team enjoys and values our culture, work environment and professional opportunities," said FANUC Americas President and CEO, Mike Cicco. "Its a great feeling knowing that in this very competitive labor market our employees have chosen FANUC as their place to work, and have expressed their satisfaction in this way."
According to Cicco, in addition to being a top workplace, FANUC has achieved a wide range of notable accomplishments in 2018 including:
Solidified its position as the global leader in robots, CNCs and factory automation with over 24M products installed.
Introduced a variety of new products including collaborative and SCARA robots, advanced features in CNC and motion control, and Industrial IoT technologies -- all designed to help customers improve their manufacturing operations.
Broke ground on a new North Campus facility in Auburn Hills, MI scheduled for completion in late 2019.
Extended certified education outreach to over 750 high schools, technical training centers, community colleges and universities, helping prepare students with the skills to work with todays advanced automation.
About FANUC America Corporation
FANUC America Corporation is a subsidiary of FANUC CORPORATION in Japan, and provides industry-leading robotics, CNC systems, and factory automation. FANUCs innovative technologies and proven expertise help manufacturers in the Americas maximize productivity, reliability and profitability.
FANUC embraces a culture of "Service First" which means that customer service is our highest priority. We are committed to supplying our customers with parts and support for the life of their FANUC products.
FANUC America is headquartered at 3900 W. Hamlin Road, Rochester Hills, MI 48309, and has facilities in: Atlanta; Boston; Charlotte; Chicago; Cincinnati; Cleveland; Houston; Los Angeles; Minneapolis; Montreal; Pine Brook, NJ; Pontiac, MI; San Francisco; Seattle; Toronto; Buenos Aires, Argentina; Sao Paulo, and Manaus, Brazil; and Aguascalientes, Monterrey, and Queretaro, Mexico. For more information, please call: 888-FANUC-US (888-326-8287) or visit our website: www.fanucamerica.com. Also, connect with us on YouTube, Twitter, Facebook, LinkedIn and Instagram.
Featured Product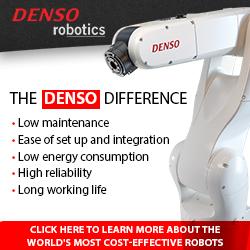 DENSO is the world's largest manufacturer - and user - of small assembly robots, employing over 17,000 of its robots in its own facilities. Over 77,000 additional DENSO robots are used by other companies worldwide. The compact, high-speed robots are used in traditional manufacturing sectors, as well as in advanced-technology applications in the medical, pharmaceutical and life sciences industries. Learn more about DENSO Robotics