Educational exhibit to highlight the newest frontier in minimally invasive surgery, robotic-assisted technology
Santa Monica, Calif. (November 15, 2018) - BIOMEDevice San Jose 2018, Silicon Valley's leading event for medical technology professionals, today announced its latest addition, The Surgical Suite. The space offers the opportunity to learn cutting-edge developments in the realm of surgical robotics featuring PROCEPT BioRobotics's AQUABEAM Robotic System, the first FDA granted autonomous tissue removal robot. Alongside the attraction, BIOMEDevice will host a thoughtfully curated panel on the rapidly evolving robotics industry. Returning for its eleventh year on December 5 - 6, 2018, BIOMEDevice San Jose will feature more than 250 leading medtech organizations and more than 1,500 medical device industry professionals. To apply for a media pass to attend, please visit: sanjose.am.ubm.com/2018/registrations/Media.

The Surgical Suite at BIOMEDevice 2018 is an educational exhibit reserved to learn more about the progressing field of robotic-assisted surgery. Attendees will have the opportunity to participate in a life-sized game of Operation and get up close and personal with the innovative AquaBeam Robotic System from PROCEPT BioRobotics, which leverages the company's novel and disruptive Aquablation therapy for the treatment of enlarged prostate.
"Surgical robotics can address a large unmet need in today's healthcare landscape," said Eric Steuben, Vice President of Operations, PROCEPT BioRobotics. "We are pleased to be a part of a show that encourages discussion and supports innovation of clinical outcomes through advanced robotic surgery."
Alongside The Surgical Suite, BIOMEDevice San Jose will host an educational panel discussing the latest in robotics and what the future holds for this exciting field. The panel will include representatives from Intuitive Surgical, Restoration Robotics, and PROCEPT BioRobotics.
Panel: Robotic Surgery - Visions of the Future
Moderated by: Daphne Allen, Editor-in-Chief, MD+DI
December 6, 2018 at 11:00 a.m. - 11:45 a.m.
Panelists: Ryan Rhodes, Chief Executive Officer at Restoration Robotics, Eric Steuben, Vice President of Operations at PROCEPT BioRobotics, and Kerry Wang, Manager of Clinical Development Engineering, Intuitive Surgical
Session Description: The surgical robotics landscape is moving at lightening pace, with more and more entrants each year. In this session, seasoned veterans of robotic surgery companies will share their thoughts about the state of surgical robotics technology today and where it's headed in the next 5-10 years.
"Robotic-assisted surgery is a growing segment with enormous potential to continue to revolutionize the surgical field and ultimately improve patient care," said Amy Sklar, Group Senior Vice President, UBM. "We are excited to host The Surgical Suite at BIOMEDevice San Jose to showcase these innovative companies and technologies at our event and expose our attendees to the future of medical technology."
To learn more about the content at BIOMEDevice San Jose, please visit: bmsj18.mapyourshow.com/content
Featured Product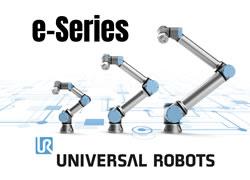 With the new e-Series cobot line, Universal Robots raises the bar for cobots, adding unique new features while significantly strengthening the four core principles defining collaborative robots: fast set-up, easy programming, flexible deployment, and safe operation. With a new built-in, tool-centric Force/Torque sensor the e-Series is ready to take on applications requiring force control right out of the box. A repeatability of 30 micron means the new cobots are suitable for very precise finishing, assembly and electronics tasks. A re-designed user interface decreases cognitive load and expedites program development, while a new externally accessible, 500Hz system bus enables more complex motion control algorithms or profiles.