KEYENCE develops sensor that goes beyond traditional sensor capabilities.
Itasca, IL: Today, KEYENCE Corporation of America, a leading supplier of sensors, measuring systems, laser markers, microscopes, and machine vision systems worldwide has released a new safety interlock switch. KEYENCE is adding value to their established offering of innovative safety light curtains and safety area scanners. The new GS Series safety interlock switch is designed to simply work better. It has a compact and robust design, forgiving and stable alignment, and is easily integrated into any safety system.
KEYENCE has pushed the limits of what safety interlock switches can do. Every aspect of safety interlock switches has been carefully studied and improved with innovative features, resulting in a much simpler device that manufacturers have never seen until now.
Innovative Features
• A redesigned actuator allows for much easier door closure and the ability to maintain door closure over time even when doors/gates sag or machine vibration occurs. This improvement eliminates unnecessary machine stoppages.
• Large LED status indicators change colors depending on door status, allowing personnel to easily check if the door is open/closed from a distance. These features maintain valuable machine uptime.
• An extremely small footprint allows for direct and flexible mounting, increasing the location options.
• The new Safety Interlock switch integrates seamlessly and can achieve the highest level of safety all while eliminating the need for additional components.
• Cascade/daisy chain up to thirty units while maintaining individual door I/O. This minimizes wiring yet allows for quick isolation of areas needing attention
Each design feature serves to reduce time and costs associated with installation, maintenance and troubleshooting.
For more details about the GS Series, visit www.keyence.com/GS-PR
KEYENCE Corporation of America is an 8-time Top 100 Most Innovative Companies in The World award winner. KEYENCE is a leading supplier of sensors, measuring systems, laser markers, microscopes, and machine vision systems worldwide, KEYENCE is at the forefront of factory automation. Focusing on innovation helps drive KEYENCE's global network of direct sales engineers in providing over 200,000 clients with value-added solutions.
Featured Product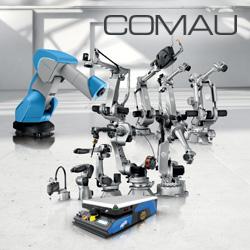 With more than40 different industrial robots with payloads ranging from 3 to 650 kg, Comauhas a robot to suit your company's automation needs.