A new enhanced 8-ch Dry-Contact I/O device designed by Intelligent Appliance, is now available for purchase on Online-Devices.com.
The new module's main features includes 4 SPDT Relays and 4 Digital Inputs, powered and controlled by its v.2.0 USB port, inclosed in a very compact plastic enclosure in order to fit even the most space challenged applications.

I/O functionality for this tiny USB module includes wide range Digital Inputs, with voltage protection in the range of +/-36VDC, handling both Dry-Contact and Wet-Contact inputs. The device Relays are of SPDT kind, C, NO, NC contacts, rated at 2Amp @ 30VDC and 0.5Amp @ 125VAC.
As a member of the Intelligent-Appliance 3000 Series, the new USB controller is compatible with the wider set of commands such as: timed controlled relays operation, Digital Input conditional Relays operation, Automatic Report functions and more.
There is no need for an external power source for monitoring and operating the relays, as the IA-1214-U operated by its USB post, while using the software utilities provided.
In the software support package for the IA-1214-U you can find the Visual Studio DOT.net driver, Labview driver, I/O state Monitoring and Relays activation Utilities, as well as Open Code software examples in order to help you implement this new module into your application quickly and easily.
This new addition to our wide variety of USBoperated I/O modules, was designed and manufactured by Intelligent-Appliance, an innovative well known company, focused mainly on designing and manufacturing solutions for ATE, Factory Floor and Building Control application.
For more information, and specifications for the new IA-1214-U, please refer to the IA-1214-U product page.
Featured Product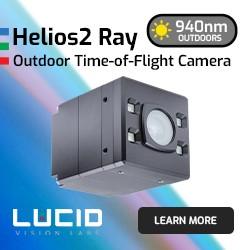 Helios2+ is an advanced version of the Helios2 ToF camera offering two new on-camera depth processing modes: High Dynamic Range Mode (HDR) and High-Speed Mode. The HDR Mode combines multiple exposures in the phase domain to provide accurate depth information in high contrast, complex scenes, containing both high and low reflectivity objects. The High-Speed Mode enables depth perception using a single-phase measurement, allowing for faster acquisition speed and higher frame rates compatible with moving object perception.