Increasing adoption of Industry 4.0 amongst manufacturers, which is also revolutionizing the manufacturing process, is believed to benefit the expansion of the U.S. SCARA robotics market.
Research Nester has released a report titled "U.S. SCARA Robotics Market - Regional Demand Analysis & Opportunity Outlook 2027" which delivers detailed overview of the U.S. SCARA robotics market in terms of market segmentation by sub system, by axis type, by application and by industry vertical.

Further, for the in-depth analysis, the report encompasses the industry growth drivers, restraints, supply and demand risk, market attractiveness, BPS analysis and Porter's five force model.
The U.S. SCARA robotics market is anticipated to record a CAGR of 8.41% during the forecast period, i.e. 2019-2027. The U.S. SCARA robotics market is segmented by sub system into hardware, software and services, out of which, services segment is anticipated to hold a considerable market share of around 33% in the year 2018, on the back of rising need to avoid unscheduled downtime in the manufacturing processes occurred due to a breakdown of the SCARA robot, coupled with the need to address labor shortage issues and increase production by the deployment of a large number of robots in manufacturing industries. Moreover, the services segment is anticipated to reach a CAGR of 9.28% over the forecast period.
The market is also segmented by axis type into 4-Axis, 5-Axis and others, out of which, 4-Axis segment is anticipated to hold the largest market share on the back of greater adoption of 4-Axis SCARA robots amongst other robot types. These robots are most suitable for pick and place in production line of the manufacturing industry, and are also a great fit for assembly applications. Furthermore, the ability of these robots to add-on axis motion or modules for greater payload application makes the robot widely acceptable amongst end user industries. Moreover, the 4-Axis segment constituted a market share of 83% in the year 2018.
Increasing Deployment Of Robotics Across Industries
In the statistics by Robotics Industries Association (RIA), there is a rise in the shipment of robots in the U.S. by 15% to 28, 478 units in 2018 as compared to 2017, as witnessed by robot manufacturers in the country. In another statistics by International Federation of Robotics (IFR), annual shipment of multipurpose industrial robots in U.S. is estimated to reach 46, 000 number of units from 31, 404 number of units in-between 2016 and 2021.
Increasing deployment of robotics in manufacturing industries so as to automate the manufacturing processes is raising the shipments of the robots in the U.S. Manufacturers around the nation are shifting their processes to automated ones owing to issues observed in labor productivity. Furthermore, greater application of SCARA robots across end users, for instance, automotive, food and beverages amongst others, is also anticipated to contribute significantly towards the growth of the market in the region. Automotive industries have found massive benefits with the deployment of SCARA robots as these robots help to improve vehicle build quality, helps in reducing warranty costs and prevents workers from performing risky activities.
Featured Product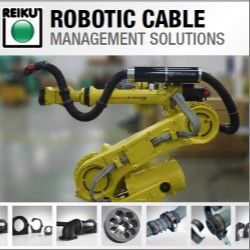 REIKU's Cable Saver™ Solution eliminates downtime, loss of revenue, expensive cable and hose replacement costs, maintenance labor costs. It's available in three sizes 36, 52 and 70 mm. All of the robots cables and hoses are protected when routed through the Cable Saver™ corrugated tubing.The Cable Saver™ uses a spring retraction system housed inside the Energy Tube™ to keep this service loop out of harms way in safe location at the rear of the Robot when not required. The Cable Saver™ is a COMPLETE solution for any make or model of robot. It installs quickly-on either side of the robot and has been tested to resist over 15 million repetitive cycles. REIKU is committed to providing the most modular, effective options for ensuring your robotic components operate without downtime due to cable management. www.CableSaver.com