New website is a valuable source of information for grocery e-commerce and store automation
BOSTON, MA, June 30, 2021 - Alert Innovation, thought leader in grocery automation, launches www.e-grocery.com, an online educational resource for the global e-commerce and store automation community.

As grocery and retail brands begin to improve their bottom line with new technologies, robotics, and warehouse automation, the entire supply chain industry is changing rapidly. Supply chain operations are evolving into more efficient engines that integrate new computerized tools and employ new micro-fullfimment centers on-site and/or with ancillary fulfillment centers.
With so many changes, employees and business partners are forced to learn an entirely new vocabulary related to the updated value chain. e-Grocery.com is an online resource, updated in real-time, developed to educate the community and accommodate the fast-growing demand for information on new topics related to e-commerce in the grocery business.
"Alert Innovation is very excited to launch this new resource and guide for our business community," said John Lert, Founder and CEO of Alert Innovation. "Our goal for the e-grocery.com site is to broaden the understanding of grocery e-commerce and store automation for improved conversations that continue to propel the industry forward."
e-Grocery.com features a comprehensive vocabulary list of terms, phrases and acronyms that cover numerous topics in global grocery, retail and supply chain automation. The site uses a unique balance of multi-media including imagery, animations and videos to educate audiences on various terms and processes. Future plans include more resources such as industry white papers, best practice guides, and trend-spotting links for the industry.
The e-grocery.com site is continuously being updated and welcomes the addition of new terms through an online form. For more information, visit www.e-grocery.com.
About Alert Innovation, Inc
Founded in 2013, Alert Innovation's mission is to improve people's lives through innovation, starting with retail, by transforming how people shop and how retailers operate. Alert Innovation has brought to market the Alphabot® Automated Storage and Retrieval System and Automated Each-Picking System and is creating a new kind of automated supermarket called Novastore™. www.alertinnovation.com
Featured Product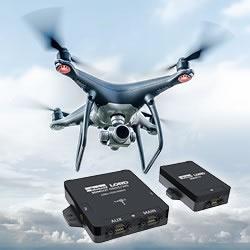 The new complete inertial navigation solution comes with GNSS/INS 3DMGQ7 sensor, 3DMRTK correction modem and real time SensorCloud RTK correction network. The sensor comes with Dual antenna GNSS, tactical grade IMU with centimeter-level accuracy with RTK. Low profile and light weight at 78 grams, this sensor is The sensor is optimized for size and weight in Unmanned Ground Vehicles, mobile robots and autonomous vehicles. The network interface 3DMRTK modem is seamlessly integrated into the 3DMGQ7 sensor supports industry-standard NMEA and RTCM 3.1 protocols. The network RTK support comes with cellular data plan. The SensorCloud RTK is a cloud-based RTK correction system with private encrypted data stream. Check out our G Series and C Series OEM products.