Indoor Robotics has a vision of higher quality of life made possible with the help of task-oriented robots
Champel Capital is thrilled to announce that it has added Indoor Robotics to its investment portfolio. Indoor Robotics has a vision of a higher quality of life made possible with the help of task-oriented robots.

Champel Capital is a young VC believing in entrepreneurs developing innovative products and services that respond to real market needs and will make an impact on the world.
Developing an autonomous indoor security robot has challenged robotics designers for years. While some ground-based robots are commercially available, ordinary items like a chair or a step can prevent them from fully securing an area. Indoor Robotics' Tando™ uses multiple sensors and proprietary algorithms to accurately map and navigate in any indoor space, allowing it to autonomously navigate above or around any items in its path, enabling it to secure and monitor large areas.
"We chose to invest in Indoor Robotics for its people and their outstanding AI-based robotics technology," said Amir Weitmann, managing partner at Champel Capital. "The founders, Doron Ben-David and Amit Moran, are experienced individuals coming from the robotics and space industries with a lot of passion and vision to improve the lives of humankind."
Tando™ docks on the ceiling and functions as a security camera when not in flight. Tando™ has already been deployed by the world's leading enterprises and security monitoring companies and is making a tangible impact on safety and security.
"We are very excited to join Champel's portfolio of companies," said Doron Ben David, CEO and co-founder. "We share a vision about how the future of robotics could look like and look forward to working together in making this vision a reality."
Champel Capital is joining Indoor Robotics' recently announced $18M series A funding. The round was led by Pitango and included the European Innovation Council, Target Global, Spider Capital, and others.
This round enables Indoor Robotics to boost product development and enable intelligent indoor security worldwide.
About Champel Capital
Established in 2017, Champel capital is a young and dynamic venture capital company with a spirit of entrepreneurship based in Jerusalem, Israel, and investing in deep-tech Israeli companies. As a leading venture capital fund, Champel Capital's responsibility accompanies every investment. Alongside their global standards for protecting social and environmental elements, they implement active impact investing as part of their asset allocation. Learn more at https://champelcapital.com/
About Indoor Robotics
Indoor Robotics was founded in 2018. The company combined innovative technology with human-like mobility to develop Tando™, the world's first autonomous robotic drone fleet for indoor security and monitoring. Powered by AI, the drone features a 360-degree camera, heat sensors, motion sensors, and leak sensors. The company has several patents, including Tile™, its proprietary ceiling dock. The company is based in Israel and has an office in the USA. Learn more at https://www.indoor-robotics.com/
Featured Product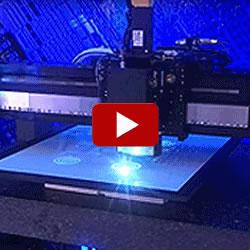 A traditional gantry system employs X-Y or X-Y-Z range of motion. Mounted on a base plate, usually granite, 2 parallel rails constitute the synchronized Y axis motion while the cross axis (bridge axis) provides the X motion. A vertical axis can be added on the bridge for the Z motion. A Split Bridge system can be less complex than a traditional gantry system because synchronization of the two parallel linear motors is not required. Both systems are used in industrial production, testing, and additive manufacturing.