KUKA leaders will be sharing their robotics and manufacturing expertise with attendees through four speaking sessions at North America's largest welding and finishing show
Robotmaster will be at booth B23004 for the FABTECH 2019 expo in Chicago!
Novarc's Spool Welding Robot will be on demonstration at FABTECH in Chicago November 11-14. Novarc's collaborative welding robot is a solution for global leaders in the construction industry representing a major shift in transitioning from manual welding by rig welders, to using lower skilled welders and welding robots in the fab shop to significantly lower the cost of welding, while achieving even better weld quality.
CNC Machines will be an exhibitor at the upcoming FABTECH expo (exhibitor booth #A2181) from November 11 through 14 in Chicago
The welding automation industry is increasingly implementing collaborative robot arms from Universal Robots. This year's FABTECH Expo features no less than three UR cobot powered path-processing solutions: BotX Welder by Hirebotics, Red-D-Arc and Airgas; Vectis Automation's Cobot Welding Tool; and SnapCut by ARC Specialties.
Water Jet Sweden has long been recognized for manufacturing the industry's most advanced, high-quality water jet systems. At FABTECH ATLANTA 2018, we took our technology to the next level with an Augmented Reality, 3D version of one of our most advanced waterjet machines, which was very much appreciated. Now it is time to bring that experience into FABTECH CHICAGO 2019.
Vectis Automation has chosen Universal Robots' UR10e cobot to power the Vectis Cobot Welding Tool launching at FABTECH 2019 in Chicago, giving smaller weld shops a low-risk, easy solution to increase weld capacity, quality and stability.
More than 170 sessions provide relevant, solution-based training led by industry thought leaders and subject matter experts
NFL's Chad Hennings, Author Frank Abagnale Jr. and Mythbuster's Grant Imahara anchor keynote sessions
Records 1 to 9 of 9
Featured Product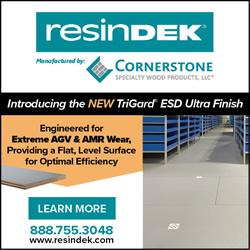 We know that the durability and condition of floors are important for optimal performance of AGV's and AMR's. Coefficient of friction, surface roughness, floor flatness, gloss, and wear can all affect the ability of robots to run at their peak performance. That's why we go to great lengths to extensively test internally and send our products to be evaluated by independent laboratories as well as the robotic manufacturers. In addition, we can customize the finish for any specification required.