Reston, Va.- QinetiQ North America will display its latest survivability technologies at the 6th Annual Soldier Technology Meeting and Exhibition in Crystal City, VA.

What: Soldier Technology Meeting and Exhibition
When: January 28-30, 2013
Where: Crystal Gateway Marriott
Booth 3
1700 Jefferson Davis Highway
Arlington, VA 22202
Featured displays will include the Integrated Warrior SystemTM, gunfire detection solutions, adapters, cabling and kits to support the soldier in any mission environment.
Dr. Andrew Rogers, QinetiQ North America's senior vice president of Survivability Solutions, is scheduled to speak on January 28 at 2:30 PM EST on the importance and future of Integrated Warrior Systems.
About QinetiQ North America
QinetiQ North America (QNA) is a subsidiary of QinetiQ Group plc, the FTSE250 company listed on the London Stock Exchange (LSE:QQ.L). Operating in North America, QNA delivers world-class technology, responsive services, and innovative solutions for global markets, focusing on U.S. government and commercial customers. Its engineers, scientists and other professionals deliver high quality products and services that leverage detailed mission knowledge and proven, reliable tools and methodologies to meet the rapidly changing demands of national defense, homeland security and information assurance customers. QNA is headquartered in McLean, Virginia. For more information visit www.qinetiq-na.com.
Featured Product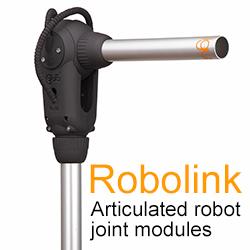 Robolink: Articulated joint modules for robots. igus® now offers a lightweight, maintenance- and corrosion-free range of robot joints for humanoid systems or other automated applications. The carbon-fiber plastic joints can rotate and oscillate freely via four wire ropes. No more expensive milling, cutting or DIY systems. Moving mass is reduced to a minimum. The actuators (engines, pneumatics and hydraulics) and the control module (DP, PC) are kept separate. Contact igus® for more information and free samples.