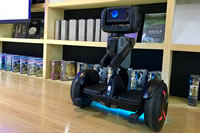 Liu Zheng for China Daily: A China-made mobile robot is set to begin mass production for consumers later this year.
Ninebot (Beijing) Tech Co Ltd, backed by Smartphone maker Xiaomi, unveiled its self-balancing two-wheeled robot on Thursday in Beijing.
Named "Loomo", the robot was transformed from the Ninebot Mini series scooter, which was first launched in October 2015, months after the company made an announcement to acquire the 12-year-old US-based balancing-scooter pioneer Segway Inc, and became one of the largest patent holders in the industry.
The acquisition followed an $80 million investment in Ninebot by Xiaomi, Sequoia Capital and other investors. Cont'd...