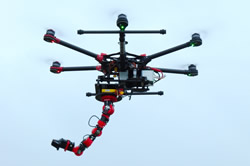 Neil Tardella for IEEE Spectrum: The DARPA Robotics Challenge this past summer showcased how far humanoid robots have come—but also how far they have yet to go before they can tackle real-world practical applications. Even the best of the DRC behemoths stumbled and fell down, proving, as IEEE Spectrum noted at the time, that "not walking is a big advantage."
There is, in fact, a new not-walking way for robots to perform many kinds of tasks better and faster: the dexterous drone.
A lightweight flying platform with a robotic arm combines the strengths of two rapidly developing, parallel industries. Aerial drones like quadcopters and octocopters have in just the past few years emerged as a viable industrial and consumer product with substantial maneuverability, versatility, and durability. Yet the drones of today are mostly just flying bodies with no arms or hands. Cont'd...