Thousands of Motoman® robots were sold with Miller Auto-Axcess and Auto-Axcess DI power sources
Dayton, OH - Yaskawa Motoman has updated its digital interface for Miller Electric Mfg. Co. Auto-Axcess® power sources to include the new Auto-Axcess E digital series power sources. Thousands of Motoman® robots were sold with Miller Auto-Axcess and Auto-Axcess DI power sources that utilized analog or DeviceNet digital interface. The analog interface is easy to retrofit to older robots. With the DI, the robot teach pendant can be used to change power source program data normally limited to Miller's File Manager™ application.

The Auto-Axcess E digital power source uses an Ethernet interface and allows control of weld data monitoring parameters through the Insight Centerpoint™ application. The robot program communicates the part number and weld ID to Insight Centerpoint, which tracks the weld data and verifies it is within limits. Miller's Insight Centerpoint weld process management system can also be used to track weld quality and overall equipment effectiveness (OEE).
The robot's actual travel speed is monitored by Insight Centerpoint so that heat input can be measured and maintained. Process control has been improved with the ability to change pulse slope and arc control in real time. The Ethernet interface can be networked allowing up to four robots to operate from a single connection. Computers can be added to the network to manage the weld data with the Insight Centerpoint application. Like Auto-Axcess DI, the Miller Auto-Axcess E digital is available in 300, 450 and 675 amperage capacities. To find out more about Motoman robots and Miller Auto-Axcess E digital power sources with Insight, contact Yaskawa Motoman.
Axcess is a registered trademark of Miller Electric Mfg. Co. Insight Centerpoint is a trademark of Miller Electric Mfg. Co.
About Yaskawa Motoman
Founded in 1989, the Motoman Robotics Division of Yaskawa America, Inc. is a leading robotics company in the Americas. With over 270,000 Motoman® robots installed globally, Yaskawa provides automation products and solutions for virtually every industry and robotic application; including arc welding, assembly, coating, dispensing, material handling, material cutting, material removal, packaging, palletizing and spot welding. For more information please visit our website at www.motoman.com or call 937.847.6200.
Featured Product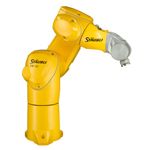 Stäubli offers a complete range of robotic tool changing systems for payloads of 20 kg to 1,530 kg and torsion moments from 30 to 12,500 Nm, designed for use in virtually every industry. The tool changers adapt to customer-specific applications with different modules for media, data, power, etc. The new MPS 130 robotic tool changer is powerful, very robust, and designed for a huge range of applications. It features multiple couplings for air/vacuum connections, and can be equipped with connectors for data and electrical transmission. Very compact dimensions, with a coupled height of only 67 mm, make the MPS 130 the first choice for applications requiring a high number of mating cycles.