• HoodTech Vision will exhibit at AUVSI's Unmanned Systems 2014, May 13-15, in the Orange County Convention Center, Orlando, Florida, booth # 847. To view the online press kit, please go to: http://www.virtualpressoffice.com/kit/my2c.
May 6, 2014 - Hood River, OR - HoodTech Vision (www.hoodtechvision.com), a leading manufacturer of stabilized imaging payloads for small unmanned and manned systems, will be demonstrating the recently introduced Alticam 05-EO5, a 4-axis stabilized imaging payload for small to medium unmanned aircraft systems (UAS) at AUVSI's Unmanned Systems 2014 in Orlando, Florida, booth #847. Based on HoodTech Vision's latest EO imaging technology, the Alticam 05-EO5 features a four-axis stabilized gimbal system with coordinate hold mode and embedded video stabilization and tracking functions. The pan-over-tilt payload turret is vibration-isolated with a slew rate of 50 degrees/per second. With dual-mode operation, network/serial and analog (video), the 05 turret includes an embedded video server and an optional network interface.

The new Alticam 05-EO5 is a drop-in replacement for HoodTech's legacy Alticam 06 and Alticam 07 models, offering better optics and improved stabilization. For more information, please visit: www.hoodtechvision.com. To view HoodTech Vision's AUVSI (Unmanned Systems North America 2014) online press kit, please go to: http://www.virtualpressoffice.com/kit/my2c.
HoodTech Vision - www.hoodtechvision.com - Hood River, Oregon, designs and manufactures stabilized EO/IR camera turrets for long-range imaging from moving platforms, such as small unmanned aircraft, manned/unmanned ground and marine systems. The company's team of experts and vast experience in sensor integration, vibration isolation, disturbance rejection, and dedicated video processing has made HoodTech Vision the preferred supplier of highly mass-efficient, low SWaP, small UAV
ISR imaging payloads.
Featured Product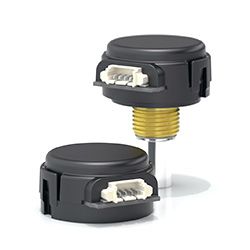 US Digital is pleased to announce the launch of the E4T, their latest series of miniature high performance optical encoders. The E4T series delivers a marked performance increase over similar encoder models and designed to be an enhanced replacement for the E4P encoder series. The E4T utilizes state of the art transmissive optical sensing technology, and incorporates US Digital's own proprietary OptoASIC. Assembly of the E4T is simple and efficient and retains the previous E4P's form factor. Key features of the new E4T include: • Mechanically and Electrically Interchangeable with E4P • Improved Quadrature Signal Strength • 100 kHz Frequency Response • Transmissive Optical Design • Collet Style Push on Optical Disk Design (Patent Pending) • Simple & Efficient Assembly Process As with all of our products the E4T is designed and manufactured in their Vancouver, Washington USA facility and is available for purchase as of December 2014.