Co-exhibiting a vertical dovetail slide, mounted with a turret supplied by Indexing Technologies.
Grafton, Wisconsin - Gilman Precision in Grafton, Wis., will be a co-booth exhibitor with Indexing Technologies Inc., at IMTS 2014.

Indexing Technologies specializes in precision indexing components for machine tool and machinery applications. Indexing Technologies distributes indexing devices produced by manufacturers who are recognized leaders in their specific field.
"Indexing Technologies is known to supply a range of quality products", said Doug Biggs, vice president of Marketing and Sales at Gilman Precision". "We are excited to showcase how our products can work alongside theirs."
Gilman Precision will be co-exhibiting a vertical dovetail slide, mounted with a turret supplied by Indexing Technologies at booth #W-1196 & W-1199.
With nearly 1,900 exhibitors and 100,000 visitors attending, the International Manufacturing Technology Show is one of the largest industrial trade shows in the world. Also known as the conference that connects technology and business, IMTS brings together the experts within the industry to display the most useful and up-to-date technical information available.
"We make a point to go each year it's held. We look forward to co-exhibiting with Indexing Technologies", said Chris Hetzer, CEO at Gilman Precision.
IMTS 2014 will be held Monday, Sept. 8 through Saturday, Sept. 13. at McCormick Place, Chicago.
Featured Product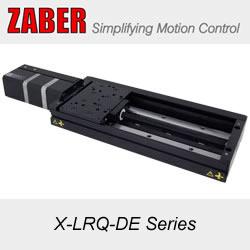 Zaber's new and improved stage (X-BLQ-E) is a closed-loop, belt-driven motorized linear stage with built-in motor encoder and controller. With travel lengths up to 3 m, 10 µm repeatability, and a maximum speed of 2.0 m/s, X-BLQ-E stages are perfect for rapid positioning over large distances. A built-in motor encoder allows closed-loop operation and slip/stall recovery, and an optional indexed knob provides manual control for operation without a computer. Like all Zaber products, the X-BLQ-E Series is designed for easy set-up and operation.