London Business Conferences' industry-leading GALM series joins forces with our cutting-edge Robotics portfolio to create one automotive manufacturing super-event in Birmingham this month.
Hosted at the illustrious VOX Conference Centre, the co-location of GALM Joining, Forming & Manufacturing Technologies Summit and Next-Generation Robotics & Automation: Automotive Manufacturing Europe 2016 offers the Automotive sector the unique opportunity to engage with the latest Joining, Forming & Precision Manufacturing techniques, already in application in Europe's leading OEMs.

Showcasing tried and tested applications from JLR, BMW, Ford, Peugeot Citroen and more, these two events are unparalleled in their capacity to unite the industry to share case study-led insights on how to drive automation, robotics and lightweight vehicle manufacturing techniques further, within your organisations.
Speakers include:
• Carsten Sieverling, Head: Technical Planning Body In White, BMW Manufacturing UK
• Rich McDonell, Senior Manufacturing Manager TS-22 Jaguar XE & F-Pace Body Construction, Jaguar Land Rover
• Dan Lämkull, Methods Developer, Volvo Car Corporation
• Jürgen Wesemann, Manager, Vehicle Technologies & Materials, Ford Research & Advanced Engineering Europe
• Dr Li Wang (PhD, MIMechE), Joining Technologies BIW Advance Manufacturing Engineering, Jaguar Land Rover
• Mathieu Kielwasser, Expert In Laser Applications Responsible For Multi Technology Multi-Material Assembly, PSA Peugeot Citroen
Delegates can pick and choose the most relevant sessions tailored to their current manufacturing priorities, and save up to *£800 by registering for an Access All Areas pass today (*based on Standard Pricing).
The Access All Areas Pass Enables Attendees To:
• Profit from a reduced price to attend both events
• Access all presentations and post-event materials
• Network with double the audience from across leading European OEMs and Tier 1s
• Meet and share perspectives with industry-leading speakers from both Manufacturing and Technology
• Bring a team member to join you to tackle both events together
For more information about the pass and both events, please visit www.nextgenautomotiverobotics.com
Featured Product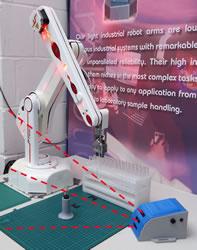 The 6-axis version of the R17HS high speed variant of the R17 robot is now available. As is our policy the 6th axis is an optional bolt-on module. At the same time we have made it even faster and new software eliminates shake and greatly improves repeatability as this video shows. Please see https://www.youtube.com/watch?v=3wG0MeiJ-yE. The video would seem to imply a repeatability of 0.01mm but we are sticking with 0.2mm in the spec. The motor specialist was able to tune the motors from the other side of the pond. My first reaction when we put power on and entered the first commands was to jump back in amazement (and maybe an expletive). Tip speed is now 3m/s; that's 3 times as fast as its nearest competitor yet costs half the price. I love it when a plan comes together.