Robotics allows us to draw a different level of employee. Employees that aren't just looking for a paycheck, but looking for a career.

Contributed by
We're excited to release the next video in our "Why I Automate" series. This is the story of Vickers Engineering, a contract manufacturer based in New Troy, MI. Vickers has transformed their business since introducing robotics and automation into its manufacturing processes.
The video is narrated by Vickers employees, from CEO Matt Tyler to engineers to workers on the factory floor, all talking about how automation has made a positive impact on their work environment and their company as a whole. Watch and listen for quotes like these that tell their story:
"Automation has made us cost competitive."
"Robotics allows us to draw a different level of employee. Employees that aren't just looking for a paycheck, but looking for a career."
"There exists out there a stereotype that robotics is associated with job loss. We haven't experienced that here. We've brought a lot of work in because of automation, and it now allows us to compete on a global scale."
"We used to ask, 'should we automate'' and have to justify the investment in the technology. Now it's just the opposite."
"We all share the same goal: safer environment, better quality, and better throughput. It (automation) makes the United States more competitive in manufacturing. And that's good for all of us."
About A3 & the "Why I Automate" Series:
The Association for Advancing Automation (A3) has launched a new website, www.a3automate.org. This blog-based website will tell the real story about companies that are successful because of automation, and how automation makes a positive impact on society.
The Association for Advancing Automation is the global advocate for the benefits of automating. A3 promotes automation technologies and ideas that transform the way business is done. A3 is the umbrella group for Robotic Industries Association (RIA), AIA - Advancing Vision + Imaging, and Motion Control Association (MCA). RIA, AIA, and MCA combined represent 750 automation manufacturers, component suppliers, system integrators, end users, research groups and consulting firms from throughout the world that drive automation forward.
---
Comments (0)
This post does not have any comments. Be the first to leave a comment below.
---
Post A Comment
You must be logged in before you can post a comment. Login now.
Featured Product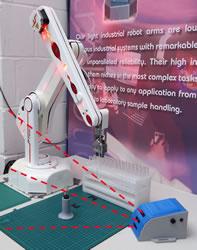 ST Robotics have decades of experience in industrial robots having sold hundreds of robots over the years. The company has 3 main models, R12, R17 and R19 all using a unique simple industrial technology that dramatically reduces costs resulting in the lowest priced industrial robots available. The same uncomplicated technology vastly improves reliability. ST backs this up with a 2 year warranty. Typical applications are routine testing, sample handling and also education. The software is a different paradigm from most robots. It is command based; you type a command and see immediate action. Programming is a building block approach, building confidence as you program in small 'mind-sized bytes'. ST offers free unlimited technical support.