Manufacturing

Marketing Partner
---

Comau
Comau, an FCA company, is a worldwide leader in manufacturing flexible, automatic systems and integrating products, processes and services that increase efficiency while lowering overall costs. Headquartered in Turin, Italy, with an international network that spans 17 countries employing more than 12,600 employees, Comau uses the latest technology and processes to deliver advanced turnkey systems that consistently exceed the expectations of its customers. Comau specializes in body joining & assembly, powertrain machining & assembly, robotics and maintenance, as well as advanced production systems for a wide range of industrial sectors. The continuous development of its products and services enables Comau to lead the automation industry in meeting the unique requirements of each customer, and through all phases of the project - from design, implementation and installation, to production start-up and maintenance services.
---
Mailing Address:
21000 Telegraph Rd.
Southfield, MI 48033
United States of America
Tel: (248) 368-4227
Fax:
Email: marisa.desantis@comau.com
Website: http://www.comau.com
Company Category: Industrial Robotics
Geographic Region: USA - North East
Company Sector: Manufacturing
Keywords: Engineering solutions, industrial process automation, robots
Partner Status: Marketing Partner
---
Products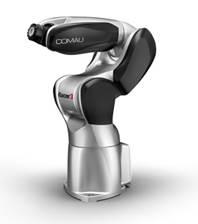 Racer3 is a powerful, high-speed, 6-axis articulated robot featuring a payload of 3kg and a reach of just 630 mm. Built from high-strength aluminum, the newest innovation in Comau robotics is lightweight and can be easily mounted on benches, walls, ceilings or on inclined supports. The third robot within the award-winning Racer family, Racer3 is Comau's response to the growing demand for fast, cost-effective robotic automation within small to medium-sized enterprises and emerging countries. Racer3 is intended for general industry use to increase productivity and reduce overall costs by automating industrial applications. It combines field-proven technology and enhanced dexterity with a keen focus on safety, design and product aesthetics. With a streamlined design and brushed metal exterior, the new powerhouse of a robot combines beauty and speed together with absolute precision and repeatability. Primary applications include assembly, material handling, machine tending, dispensing and pick & place.
---
Articles
This Company does not currently have any Articles
---
---