Manufacturing

Marketing Partner
---

Epson Robots
As the SCARA robots industry leader, Epson has a wide variety of SCARA robots available. With over 300 models, our high performance G-Series, value priced LS-Series or unique SCARA+ RS-Series robots are sure to fit the needs for your next high speed automation project. With thousands of successful applications in major facilities worldwide, EPSON SCARA robots are helping companies throughout the world improve their yields, throughput, and quality. Let us help with your next project.
---
Mailing Address:
18300 Central Avenue
Carson, CA 90746
United States of America
Tel: (562) 290-5910
Fax: (562) 290-5999
Email: info@robots.epson.com
Website: http://www.epsonrobots.com/under12k?RT
Company Category: Industrial Robotics
Geographic Region: USA - South West
Company Sector: Manufacturing
Keywords: robots,six axis,scara,controller,vision,6 axis
Partner Status: Marketing Partner
---
Products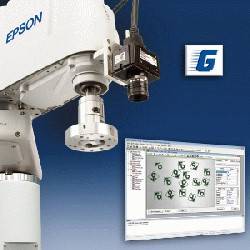 EPSON Robots is the global leader in PC controlled precision factory automation, with an installed base of over 45,000 robots and a product line of hundreds of models of easy to use SCARA, Cartesian and 6 axis robots based on a common PC based controls platform. EPSON offers powerful options such as Vision Guide, Conveyor Tracking, .Net Connectivity, GUI Builder, Force Sensing, DeviceNet, Profibus, EtherNet/IP, Ethernet I/O and more. Building on a 30 year heritage, EPSON Robots delivers robots for precision assembly and material handling applications in the automotive, medical device, appliance, biotechnology, consumer product, electronics, food, pharmaceutical, plastics, semiconductor, and other industries. For more information, visit us at www.epsonrobots.com , or contact us directly at +1.562.290.5910
---
Articles
Our booth will feature several of our 6-Axis and SCARA robots including the newly announced Flexion N-Series which features the world's first folding arm design.
---
---