Manufacturing -
Marketing Partner
---

SCHUNK
SCHUNK is a family owned operation and a global player in one. Totaling more than 60 years of experience, SCHUNK offers worldwide leading technology in gripping systems and clamping technology. With more than 2,000 employees located in more than 50 countries in a network of directly owned subsidiaries, SCHUNK offers global customer service and technical support. SCHUNK designs and manufactures an unmatched selection of gripping systems including grippers, rotary modules, linear modules, robotic components, sensors and accessories. SCHUNK lives its mission that "with a pioneering spirit and perfection, we are setting worldwide standards". As a brand ambassador of the SCHUNK team, the No. 1 goalkeeper communicates our global competence leadership for clamping technology and gripping systems. The top performance of SCHUNK and Jens Lehmann are characterized by dynamics, precision, and reliability.
---
Mailing Address:
211 Kitty Hawk Drive
Morrisville, NC 27560
United States of America
Tel: (919) 572-2705
Fax:
Email: info@us.schunk.com
Website: http://www.schunk.com
Company Category: Robotics
Geographic Region: USA - South East
Company Sector: Manufacturing
Keywords: Grippers, Automation, robotics, linear
Partner Status: Marketing Partner
---
Products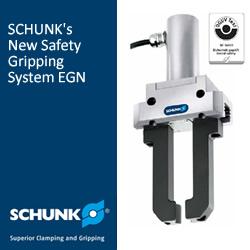 Powerball Lightweight Arm LWA 4.6, 6-Axes-Lightweight Roboter for mobile Handling. Maneuverable, powerful and high-precision The Powerball concept from SCHUNK, the competence leader for clamping technology and gripping systems, takes another step forward: With the Powerball-Lightweightarm LWA 4.6, the pioneer of modular robotics presents an especially compact and flexible aid for stationary and mobile applications in service robotics and industrial handling. The powerful lightweight module from the innovative family-owned company features a weight/payload ratio of 2:1 and is one of the most high-power lightweight arms in the world. At a dead weight of 12 kg, it can dynamically handle loads of up to 6 kg, and has a gripping radius of more than 700 mm.
---
Articles
This Company does not currently have any Articles
---
---