Manufacturing

Marketing Partner
---

ST Robotics
Manufacturer of low cost bench top robot arms with a unique approach to robotics. We have a range of robot arms for routine testing, manufacturing, sample handling, education and many others. Our robots are not only affordable but are incredibly easy to use - anyone can apply and program an ST robot regardless of experience or lack of it thanks to our acclaimed manuals and tutorials and unlimited free technical support.
---
Mailing Address:
103 Carnegie Center
Princeton, NJ 08540
United States of America
Tel: (609) 584-7522
Fax:
Email: sales1@strobotics.com
Website: http://www.strobotics.com
Company Category: Industrial Robotics
Geographic Region: USA - North East
Company Sector: Manufacturing
Keywords: Manufacturer of industrial robot arms
Partner Status: Marketing Partner
---
Products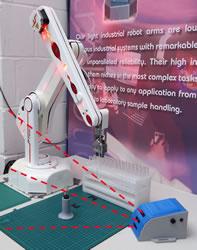 St Robotics is making the K11R robot controller available for any robot that uses stepping motors including the IGUS range. Providing you use low inductance motors the K11R will provide surprising power and speed from it's 55v DC supply and Gecko micro-stepping drives controlled by a fast DSP and micro-controller. The software is RoboForth II V17 embedded in the controller which together with the PC project supervisor gets your robot going within minutes. It is a text based conversational language that is so easy to use yet permits programs of great complexity when required. The kinematics are easily tailored to any size of robot and any number of axes from 3 to 6. The controller will also provide easy calibration to sensors and also reads back and compares encoders if you fit them. Speed, acceleration and rate of acceleration (3rd order) are all programmable as is emergency stop and many other features. Your positional data and programs may be saved on your PC and also in the controller's flash memory. The K11R will also control external devices such as pneumatic gripper, vacuum pickup, air cylinders and communicate with a PLC. Pricing starts at $2500. Contact ST at sales@strobotics.com
---
Articles
Although the system was developed primarily for the inspection of orthopedic parts it can equally be used for the automated inspection of any critical parts, for example aeronautical.
The vision system sends coordinates to the robot so it can be gripped by the robot regardless of position.
We call our robots entry level for a very good reason. People can get started so easily with our robots. They are not the best robot arms on the planet but they are affordable and incredibly easy to use.
---
---