Julian: A Open Source Grammar Based Speech Recognition Library
Achu Wilson is building a personal robot called Chippu. Using Julian, a special version of Julius Speech Recognition Library, he was able to recognize and execute voice commands. He details the process of getting the library working with ROS in his blog post here.
Comments (0)
This post does not have any comments. Be the first to leave a comment below.
---
Post A Comment
You must be logged in before you can post a comment. Login now.
Featured Product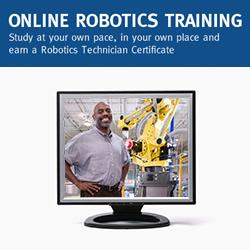 Study online at your own pace to earn your certificate as a Robotics Technician. This program prepares you to develop, install, maintain, and repair industrial robotic systems. The Robotics simulation software, RoboLogix, is designed to emulate real-world robotics applications. Users gain 'hands-on' programming experience though teach-pendant and 3D simulation environment. With RoboLogix, the user can run the simulator to test and visually examine the execution of robot programs and control algorithms, while plotting instantaneous joint accelerations, velocities and positions. Learn more.