Robotics integrator RobotWorx debunks the used robot myths, offering its customers reliable, high-performance, and fully warrantied used robots.
Marion, OH (PRWEB) June 22, 2011

All too often companies are reluctant to consider used industrial robots as a viable automation option, despite their lower cost. Common misconceptions of used robots paint them as slow, finicky, and unsupported. However, not every used robot is created equal. Robotics integrator RobotWorx debunks the used robot myths, offering its customers reliable, high-performance, and fully warrantied used robots.
"At RobotWorx we're focused on bringing automation within reach and changing the way used robots are perceived. We take robot reconditioning and customer support very seriously," RobotWorx President Jarrod Bichon said. "Hopefully more and more companies will give used robots a chance and take advantage of the excellent performance and affordability they offer."
The secret behind RobotWorx' top quality used robots is attention to detail. Prior to reconditioning, the acquisitions team is careful to select only robots with low hours and minimal wear. Previous work environments and applications are also considered.
Once RobotWorx' team is sure they have a solid product, the real work begins. The company has developed a thorough method to return used robots to like-new condition inside and out. Each used robotic system (manipulator, controller, and teach pendant) is put through a rigorous 168-point inspection and reconditioning process. All components are thoroughly cleaned, tested, and replaced if need be. Finally, the entire system receives a fresh coat of paint.
According to Bichon, customers can expect to pay 40-50% less for used robots. This makes for an even greater return on investment (ROI). Contrary to popular belief, used robots do not have to be a risky choice. Integrators such as RobotWorx have perfected the art of reconditioning and they stand by their products. Each of RobotWorx' used robots is protected with a complete warranty.
About RobotWorx:
RobotWorx specializes in building and integrating turnkey robotic workcells for different industrial uses and contexts. Established in 1992, the company has quickly become a leader in robotic integration, partnering with robot manufacturers FANUC, Motoman, and KUKA in order to provide the very best for its customers. For more information, visit http://www.robots.com or call RobotWorx at 740-383-8383.
Featured Product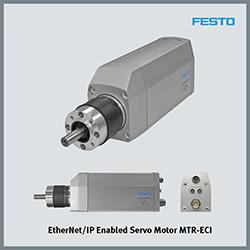 Mechatronic Motion Solutions from Festo is a unique system of components, modules, and software. It integrates all types of pneumatic, servopneumatic and (electro)mechanical automation motion and combines them according to your task. Irrespective of the control system environment you use, Mechatronic Motion Solutions always provides the appropriate interfaces. The fingers can be actively moved and their strength amplified; the operator's hand movements are registered and transmitted to the robotic hand in real time. The objectives are to enhance the strength and endurance of the human hand, to extend humans' scope of action and to secure them an independent lifestyle even at an advanced age.