Robotic Hardware Integration Test Successfully Completed
Advanced Robotic Concepts Under Development

Cambridge, Massachusetts (July 15, 2011) - Energid Technologies Corporation has developed a next-generation robot prototype for heat exchanger inspection in nuclear power plants. The robot was created for use in an inspection system by Mitsubishi Heavy Industries (MHI), Ltd.
To support continual innovation of its technologies, MHI came to Energid, a leader in the creation of advanced robotic systems, for robotic vehicle design, prototype development, and software integration.
Advanced control and machine vision algorithms developed by Energid were used on the prototype robot. Energid's algorithms for locomoting and manipulating using machine vision represent the best of many robotics technologies—ensuring the new robot is accurate, fast, robust, and safe.
The Energid prototype is an important component of the full system under development at MHI. MHI is planning to apply all or part of the new technologies that Energid developed into their next generation of heat exchange generator robots.
Extensive movement verification tests have been performed using the prototype robot in Energid's lab in Burlington, Massachusetts. The prototype hardware and control algorithms passed these stringent tests, pointing the way forward in MHI's quest to radically improve robotic performance.
"This milestone, the successful completion of hardware-integration testing coming from our cooperation, represents substantial risk reduction," said Neil Tardella, Chief Operating Officer at Energid Technologies. "We are all eager to move forward."
For additional information, contact Mary Salzman, (888) 547-4100 x 420.
About Energid Technologies
Energid Technologies develops robotic systems and products for the energy, agriculture, transportation, defense, and medical industries. Energid's ActinTM and SelectinTM products provide advanced technology in the form of extensible software toolkits. Energid specializes in the sensing, control, and simulation of complex robotic systems.
About Mitsubishi Heavy Industries
Mitsubishi Heavy Industries, Ltd. (TSE: 7011, 'MHI'), headquartered in Tokyo, Japan, is one of the world's leading heavy machinery manufacturers. MHI's diverse lineup of products and services encompasses shipbuilding, power plants, chemical plants, environmental equipment, steel structures, industrial and general machinery, aircraft, space rocketry and air-conditioning systems.
For more information, please visit the MHI website at www.mhi.co.jp.
Featured Product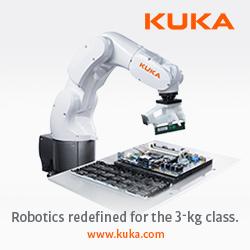 Great advances often start with small steps - in manufacturing cells measuring only 600 × 600 mm. Here, the KR 3 AGILUS is in its element. Particularly in the case of small parts and products which must be produced in a minimum of space. KUKA expertise, concentrated into the smallest of spaces, is setting new standards for the 3-kg class. The lightweight robot masters various tasks with agility, dynamism and maximum precision, leading to high flexibility in production - even when it comes to extremely narrow spaces.