Systems will help dairy producers improve profitability by streamlining operations, lowering costs
(Grimsby, Ontario, Canada: July 27, 2011) RMT Robotics , manufacturer and integrator of innovative robotic gantry material handling systems, will introduce both a case and crate picking solution at the 2011 International Dairy Show. The systems reduce the footprint of standard pick modules, pick in exact customer sequences, and provide complete traceability of products, functions that are often difficult for conventional case picking applications. The robotic gantry-based solutions also have limitless layout options, can operate in chill stores to minus 20 degrees celcius, and can handle a large variety of dairy products, including milk, cream, yogurts, and cheese.

The RMT picking systems are highly flexible and designed to address current distribution dilemmas including SKU proliferation, labor constraints and traceability. Regardless of packaging type -- case or crate-- the systems are designed to pick individual or multiple cases out of active storage. As soon as the system receives orders and products, it begins the pre-picking process. When the required products for a certain order are ready, the system can complete it extremely quickly. Using an advanced automated controls system, cases or crates will be delivered in exactly the desired pallet-build sequence for automated mixed palletizing at the dock. As a result, fresh products arrive at the retail stores earlier and have longer shelf lives. The system also provides precise information on the location of all products as well as the ability to isolate SKUs in the event of a problem or recall.
"RMT Robotics is pleased to introduce our newest case and crate picking solutions for the dairy industry," said Derek Rickard, Distribution Systems Manager for RMT. "With prices being set by a competitive market and an environment driven by new safety requirements, the industry is under more pressure than ever. RMT systems will help dairy producers address the current challenges, and improve their profitability, by streamlining operations and lowering costs."
Featured Product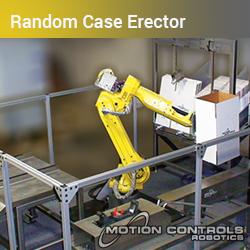 Random Case Erectors are ideal for fulfillment centers and other end-of-line packaging needs. Save money by eliminating changeover downtime. Reduce ergonomic injuries by eliminating repetitive manual tasks. The Random Robotic Case Erector System includes: • FANUC M20iA/20 Robot • Combi gravity case magazine - holds 2 box sizes • Combi bottom flap folder with integrated 3M case sealing head. • Fixed robot base, anchored to the floor • Flexible end of arm tool to pick and erect multiple case sizes to eliminate changeover downtime • System wiring and controls • Color 7.5" touchscreen HMI display for selecting case size • Perimeter guarding with safety interlocks on doors • Programming for Robot, PLC/PMC, HMI and Vision • Complete documentation in electronic format • On-site training and support • Compliance with all applicable robotic safety standards. Alternate safety configuration may be available to allow an operator to changeover a case size in one magazine while the robot continues to work in other magazines. Contact Motion Controls Robotics to learn more about how to implement this system into your current end-of-line operations.