KCF Technologies has developed a Smart Tether system for Kongsberg-Mesotech sonar units which integrates Smart Tether positioning functionality with the Kongsberg Mesotech MS1000 software.
This system provides a powerful package for quickly performing a comprehensive search of an area and easily documenting the results. KCF has successfully performed lake-bottom scans using this combined system.

With this new capability, it's also quite easy to do ROV-supported scan operations. KCF's test was performed using 2 independently-operating Smart Tether systems, one on the Kongsberg sonar and one on a VideoRay Pro4 ROV. It is very easy to find targets using the sonar and then navigate to them with the ROV, all in real time using the data from the Smart Tethers to coordinate between the two technologies. The ROV can be identified and tracked on the sonar screen as well, providing the ROV pilot additional feedback.
This technology combination can prove very powerful in quickly locating targets and piloting the ROV to them for identification and inspection, allowing an area to be quickly swept without needing to put divers in the water to investigate every target.
Combined with the quick setup time of the Smart Tether, this system allows a very large area to be completely searched and accurately documented very quickly with minimal response time, providing excellent value for first responders and other search and recovery teams.
Featured Product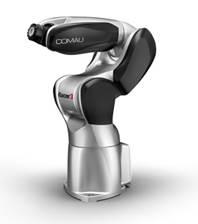 Racer3 is a powerful, high-speed, 6-axis articulated robot featuring a payload of 3kg and a reach of just 630 mm. Built from high-strength aluminum, the newest innovation in Comau robotics is lightweight and can be easily mounted on benches, walls, ceilings or on inclined supports. The third robot within the award-winning Racer family, Racer3 is Comau's response to the growing demand for fast, cost-effective robotic automation within small to medium-sized enterprises and emerging countries. Racer3 is intended for general industry use to increase productivity and reduce overall costs by automating industrial applications. It combines field-proven technology and enhanced dexterity with a keen focus on safety, design and product aesthetics. With a streamlined design and brushed metal exterior, the new powerhouse of a robot combines beauty and speed together with absolute precision and repeatability. Primary applications include assembly, material handling, machine tending, dispensing and pick & place.