Announcement from Armin Hornung of Humanoid Robots Lab, Albert-Ludwigs-Universität Freiburg to ros-users
I'm pleased to announce the release of OctoMap 1.2, along with the updated octomap_mapping ROS stack for diamondback, electric, and unstable (see official octomap page and ROS wiki page). This is major step up from the OctoMap 1.0 release and features many under-the-hood improvements (speedup, leaner code, testing, bug fixes) as well as an improved interface for fellow developers. Key features of the new version are: an adjustable sensor model, node-iterators, time-stamped nodes, and an improved make system. A clean separation of the visualization library means that the octomap_mapping stack no longer depends on Qt or OpenGL (our visualization "octovis" will be released later as an additional ROS package). Furthermore, all output in the octomap package is now using proper ROS log levels (thanks to Eric Perko for the patch).

Changelog - http://octomap.svn.sourceforge.net/viewvc/octomap/tags/v1.2/octomap/CHANGELOG.txt
Download - http://sourceforge.net/projects/octomap/files/octomap-1.2.0.tar.gz/download
ROS packages for diamondback, electric, and unstable are being built and will be available soon. Until then, you can get the `octomap_mapping stack from alufr-ros-pkg (http://code.google.com/p/alufr-ros-pkg/)
Your friendly neighborhood OctoMap team ("Kai and Armin")
Featured Product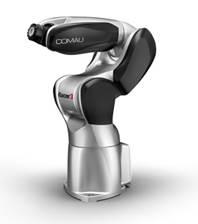 Racer3 is a powerful, high-speed, 6-axis articulated robot featuring a payload of 3kg and a reach of just 630 mm. Built from high-strength aluminum, the newest innovation in Comau robotics is lightweight and can be easily mounted on benches, walls, ceilings or on inclined supports. The third robot within the award-winning Racer family, Racer3 is Comau's response to the growing demand for fast, cost-effective robotic automation within small to medium-sized enterprises and emerging countries. Racer3 is intended for general industry use to increase productivity and reduce overall costs by automating industrial applications. It combines field-proven technology and enhanced dexterity with a keen focus on safety, design and product aesthetics. With a streamlined design and brushed metal exterior, the new powerhouse of a robot combines beauty and speed together with absolute precision and repeatability. Primary applications include assembly, material handling, machine tending, dispensing and pick & place.