Announcement from Armin Hornung of Humanoid Robots Lab, Albert-Ludwigs-Universität Freiburg to ros-users
I'm pleased to announce the release of OctoMap 1.2, along with the updated octomap_mapping ROS stack for diamondback, electric, and unstable (see official octomap page and ROS wiki page). This is major step up from the OctoMap 1.0 release and features many under-the-hood improvements (speedup, leaner code, testing, bug fixes) as well as an improved interface for fellow developers. Key features of the new version are: an adjustable sensor model, node-iterators, time-stamped nodes, and an improved make system. A clean separation of the visualization library means that the octomap_mapping stack no longer depends on Qt or OpenGL (our visualization "octovis" will be released later as an additional ROS package). Furthermore, all output in the octomap package is now using proper ROS log levels (thanks to Eric Perko for the patch).

Changelog - http://octomap.svn.sourceforge.net/viewvc/octomap/tags/v1.2/octomap/CHANGELOG.txt
Download - http://sourceforge.net/projects/octomap/files/octomap-1.2.0.tar.gz/download
ROS packages for diamondback, electric, and unstable are being built and will be available soon. Until then, you can get the `octomap_mapping stack from alufr-ros-pkg (http://code.google.com/p/alufr-ros-pkg/)
Your friendly neighborhood OctoMap team ("Kai and Armin")
Featured Product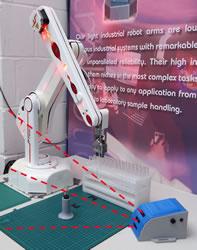 ST Robotics have decades of experience in industrial robots having sold hundreds of robots over the years. The company has 3 main models, R12, R17 and R19 all using a unique simple industrial technology that dramatically reduces costs resulting in the lowest priced industrial robots available. The same uncomplicated technology vastly improves reliability. ST backs this up with a 2 year warranty. Typical applications are routine testing, sample handling and also education. The software is a different paradigm from most robots. It is command based; you type a command and see immediate action. Programming is a building block approach, building confidence as you program in small 'mind-sized bytes'. ST offers free unlimited technical support.