Southwest Research Institute (SwRI) and the Motoman Robotics Division of Yaskawa America, Inc. have entered into a memorandum of understanding to collaborate on integrating Motoman Robotics' line of industrial robots with the open-source ROS (Robot Operating System) software.
The collaboration will seek to develop, demonstrate and release to the open-source community an interface between Motoman robots and ROS.

Motoman Robotics' line of industrial robots covers a variety of industrial automation applications in nearly every industry. ROS provides an open framework for developing advanced robotic solutions. It has a growing community of developers focusing on open-source software stacks for all aspects of robotic systems.
SwRI, as an independent, non-profit applied research and development organization, provides expertise in bringing fundamental research and technology to bear in industrial applications.
For more information about SwRI's work with robotics, see http://robotics.swri.org or contact Clay Flannigan at (210) 522-6805 or clay.flannigan@swri.org.
About SwRI:
SwRI is an independent, nonprofit, applied research and development organization based in San Antonio, Texas, with more than 3,000 employees and an annual research volume of more than $548 million. Southwest Research Institute and SwRI are registered marks in the U.S. Patent and Trademark Office. For more information about Southwest Research Institute, please visit newsroom.swri.org or www.swri.org.
Featured Product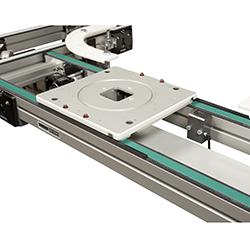 Dorner's 2200 Series Precision Move Pallet Systems feature the latest advancements in pallet traffic management. A unique pin tracking system guides pallets through merges and curves while maintaining product orientation. The fast belt change capability increases efficiency and reduces downtime in assembly automation processes. They are available in lengths up to 25 ft., can handle loads up to 500 lbs. and travel at speeds up to 114 ft/min.