Southwest Research Institute (SwRI) and the Motoman Robotics Division of Yaskawa America, Inc. have entered into a memorandum of understanding to collaborate on integrating Motoman Robotics' line of industrial robots with the open-source ROS (Robot Operating System) software.
The collaboration will seek to develop, demonstrate and release to the open-source community an interface between Motoman robots and ROS.

Motoman Robotics' line of industrial robots covers a variety of industrial automation applications in nearly every industry. ROS provides an open framework for developing advanced robotic solutions. It has a growing community of developers focusing on open-source software stacks for all aspects of robotic systems.
SwRI, as an independent, non-profit applied research and development organization, provides expertise in bringing fundamental research and technology to bear in industrial applications.
For more information about SwRI's work with robotics, see http://robotics.swri.org or contact Clay Flannigan at (210) 522-6805 or clay.flannigan@swri.org.
About SwRI:
SwRI is an independent, nonprofit, applied research and development organization based in San Antonio, Texas, with more than 3,000 employees and an annual research volume of more than $548 million. Southwest Research Institute and SwRI are registered marks in the U.S. Patent and Trademark Office. For more information about Southwest Research Institute, please visit newsroom.swri.org or www.swri.org.
Featured Product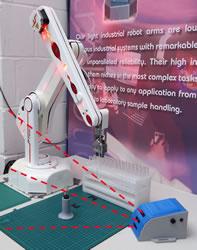 ST Robotics have decades of experience in industrial robots having sold hundreds of robots over the years. The company has 3 main models, R12, R17 and R19 all using a unique simple industrial technology that dramatically reduces costs resulting in the lowest priced industrial robots available. The same uncomplicated technology vastly improves reliability. ST backs this up with a 2 year warranty. Typical applications are routine testing, sample handling and also education. The software is a different paradigm from most robots. It is command based; you type a command and see immediate action. Programming is a building block approach, building confidence as you program in small 'mind-sized bytes'. ST offers free unlimited technical support.