Embedded intelligence reduces bus traffic and can take over mission critical functions when network is down.
Elgin, IL - September 12, 2011 -- Based on 20 years experience in solar industry motion control with over 150,000 units in the field, Dunkermotor's new line of brushless dc Solar Tracker Motors (STM) with integral fieldbus-enabled controllers are optimized to reduce development time, lower installation costs and provide lowest total cost of ownership (TCO) in a variety of solar tracking applications. Electric energy production can be increased by 30-35% more with solar tracking compared to fixed photovoltaic panel systems.

The new Dunkermotor STM line is designed to enable the control of up to 127 motors over a 5000 meter (16,400 feet) bus length utilizing the motors' integral CANopen interface with a single economic, off-the-shelf PLC having a solar tracking function block. The STM integral control brushless motors can also be used with industrial PCs as well as Profibus and Modbus networks. T he embedded intelligence of the STM motors' integral controls, which are designed with up to 650,000 hour MTTF, dramatically reduces bus traffic by running complex routines on board, such as homing and closing the position loop with an attached absolute encoder or inclinometer. In addition, the motors' embedded intelligence can also take over mission critical functions, like returning to a safe position, when the network is down.
The low voltage brushless dc STM motors are available in three millimeter frame sizes (45, 65, 75) with powers up to 530W (0.7 hp) and can be easily integrated with existing design slew drives, pan and tilt mechanisms and linear actuators used in the solar industry. Where additional gear reduction is required, the STM motors can be mated to Dunkermotor's own modular planetary or worm reducers offering up to 678 Nm (6000 in-lb) peak torques.
The standa rd STM motors are designed to be maintenance free for life. They are rated for IP65 environmental protection, employ special venting devices to prevent condensation, as well as proprietary lubrication techniques for the low speed, high torque and wide temperature ranges found in solar applications. The STM's integral control also features speed and torque regulation capability to prevent mechanical damage.
"Dunkermotor customers have found that we add significant value to their solar tracker projects not only because of our extensive global experience in photovoltaic applications, but also in every element of concentrating solar power: from parabolic trough and power tower to Fresnel and Stirling dish," said Wilfrid Vinson, president of Dunkermotor. "This new generation of STM products with fieldbus connectivity, scalability and diagnostic capability is an excellent example of how Dunkermotor employs its experience in the solar field to bri ng forth new innovations that will help customers deploy their projects quickly with proven solutions that offer lowest total cost of ownership."
About Dunkermotor:
Headquartered in Elgin, Illinois, Dunkermotor is the North American sales, technical support and logistics subsidiary of Dunkermotoren GmbH, for 60 years the world market leader in customized, configurable sole-source fractional horsepower motion control solutions composed of BLDC, PMDC and AC electric motors, gearmotors, controls, encoders and brakes, as well as linear motion solutions. With headquarters in Bonndorf, Germany in the Black Forest and production and/or logistics facilities in Europe, Asia and the U.S., Dunkermotoren employs 1000 globally and produced over 3 million motors in 2010 for the solar tracking, semiconductor, medical, factory and commercial automation and packaging industries.
Featured Product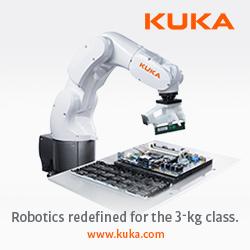 Great advances often start with small steps - in manufacturing cells measuring only 600 × 600 mm. Here, the KR 3 AGILUS is in its element. Particularly in the case of small parts and products which must be produced in a minimum of space. KUKA expertise, concentrated into the smallest of spaces, is setting new standards for the 3-kg class. The lightweight robot masters various tasks with agility, dynamism and maximum precision, leading to high flexibility in production - even when it comes to extremely narrow spaces.