Point Cloud Library (PCL) version 1.2 has been released
Point Cloud Library: a comprehensive open source library for n-D Point Clouds and 3D geometry processing. The library contains numerous state-of-the art algorithms for: filtering, feature estimation, surface reconstruction, registration, model fitting and segmentation, etc.

You can find the latest source and binaries on our download page: http://www.pointclouds.org/downloads/.
ChangeList: http://dev.pointclouds.org/projects/pcl/wiki/ChangeList#-12-2011-09-30-Enough-small-talk-LM-
Featured Product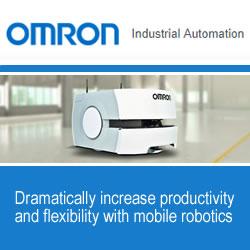 The Omron Adept Lynx Cart Transporter is an Autonomous Intelligent Vehicle (AIV) designed to attach to movable carts and transport them from a pickup location to a drop off location. Applications include line-side inventory replenishment, moving flow racks, transporting Work in Progress (WIP) between process steps, and moving finished goods to the warehouse. The Lynx Cart transporter leverages Natural Feature Navigation to autonomously find a path through the facility without the need for any facility modifications necessary.