Point Cloud Library (PCL) version 1.2 has been released
Point Cloud Library: a comprehensive open source library for n-D Point Clouds and 3D geometry processing. The library contains numerous state-of-the art algorithms for: filtering, feature estimation, surface reconstruction, registration, model fitting and segmentation, etc.

You can find the latest source and binaries on our download page: http://www.pointclouds.org/downloads/.
ChangeList: http://dev.pointclouds.org/projects/pcl/wiki/ChangeList#-12-2011-09-30-Enough-small-talk-LM-
Featured Product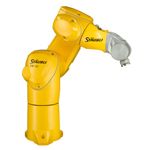 Stäubli offers a complete range of robotic tool changing systems for payloads of 20 kg to 1,530 kg and torsion moments from 30 to 12,500 Nm, designed for use in virtually every industry. The tool changers adapt to customer-specific applications with different modules for media, data, power, etc. The new MPS 130 robotic tool changer is powerful, very robust, and designed for a huge range of applications. It features multiple couplings for air/vacuum connections, and can be equipped with connectors for data and electrical transmission. Very compact dimensions, with a coupled height of only 67 mm, make the MPS 130 the first choice for applications requiring a high number of mating cycles.