AutomationDirect announces APR40 series power relays.
AutomationDirect announces APR40 series power relays. Available in SPDT, DPST, and DPDT models, they feature open-construction design with high-power contacts capable of switching up to 40A with a maximum contact voltage up to 600V. Power relay prices start at $14.75.

The H782/H750 series Hazardous Location electromechanical relays are hermetically sealed plug-in style control relays designed for applications requiring sealed units for hazardous factory locations. Both series feature high vibration and shock resistance providing high reliability and long life and are available with relay coil voltages of 110/120 VAC, 220 VAC, 12V AC/DC and 24V AC/DC. The H782 series 4PDT cube relays, in 3 Amp and 5 Amp models, start at $34.75; relay sockets are available for $3.75. The H750 series octal relays feature 12 Amp contact ratings and are available in DPDT and 3DPT models. H750 series octal relays are priced from $45.
The Solid State Relay (SSR) line has been extended to include the AD-SSR6 series panel mount relays. This series offers Class 6 solid state relays which withstand high load ratings from 10 Amps up to 75 Amps in a finger-safe "hockey puck" type housing. Switching types include DC switching for low-voltage DC loads and Zero Cross for resistive AC loads. AD-SSR6 relays start at $14.50 and include a thermal mounting pad. Additional mounting pads are available for $18 for a 10-pack.
The AD-SSR8 series features general purpose solid state relays which offer energy efficient current switching in a slim housing ideal for space-saving applications. The series has input ranges of 90 VAC to 280 VAC and 3 VDC to 32 VDC. The DIN rail mountable relays feature internal heat sink, optically coupled circuits and finger-safe terminals. Switching types include Zero Cross for resistive AC loads where the output energizes/de-energizes when control voltage nears zero and Random for AC loads where the output changes instantaneously with the actual voltage. AD-SSR8 solid state relays start at $20.25.
The AD-HSSR8 series HAZLOC solid state relays are Class 8 hazardous location relays approved for Class 1, Div. 2 (Groups A, B, C, D). Switching types include DC switching for DC loads and Zero Cross for resistive AC loads. Switching devices include MOFSET for DC loads and SCR for all types of AC loads. Available in 8 Amp to 15 Amp contact ratings, the AD-HSSR8 series relays start at $54.50.
AutomationDirect sells over 10,000 feature-packed products through its Online Automation Superstore and 2,200-plus page catalog. The company offers its customers high-quality automation products, which are often priced at half the industry average, 24-hour order entry and overnight delivery, the best documentation in the industry, outstanding sales and technical support, and a 30-day money-back guarantee.
Featured Product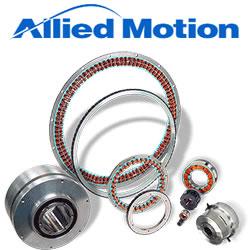 Allied Motion's Megaflux MFH170i series of 170 mm (6.7 in) diameter housed brushless torque motors consists of a high performance brushless DC torque motor, a digital servo drive, and an optical encoder, all integrated into a rugged machined aluminum housing with robust duplex bearings. The MFH0170i series features a 63.5 mm (2.5 in) large-bore through shaft, and is characterized by a very high torque-to-inertia ratio. There are three stack lengths in the series with peak torque ranging from 8.5 up to 16.9 Nm (75 up to 150 lb-in). The standard winding voltage is 48 V. And to ease the hassle of long leadtimes for prototypes, the new MFH170i is now available through our QuickShip program.