Maxon have just released their new 24pg Pancake Motor Brochure.
--For Immediate Release--

Maxon have just released their new 24pg Pancake Motor Brochure.
Maxon's Flat Motor Program Features:
>Brushless DC motors with external rotors
>Electronically commutated internal rotor motors
>Hall sensor and sensorless versions
>Models with integrated electronics
>6, 9.2, 10, 14, 20, 32, 40, 45, and 90 mm diameter versions
>0.2 - 90 watts rated
Characteristics of a Brushless DC Flat Motor:
>Ultra flat and simple design
>Sinusoidal commutation for smooth motion
>High dynamic performance
>High torque
>Long service life
>Low inertia
>Minimal detent
>Integrated electronics available
>Can be combined with maxon gearboxes and/or various feedback devices
>Optional IP40 sealing
>Economical cost through largely automated production
For more information, please contact:
EDITORIAL CONTACT:
Warren Osak
sales@electromate.com
www.electromate.com
Toll Free Phone: 877-737-8698
Toll Free Fax: 877-737-8699
Featured Product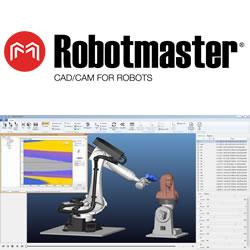 Robotmaster V6 provides a unique integration of user control, speed and flexibility to Robotmaster's renowned automation and optimization tools. The new and intuitive V6 interface elevates Robotmaster to an unprecedented standard of user experience by giving robot programmers a coherent and dynamic tool that radically saves time and money.