Maxon have just released their new 24pg Pancake Motor Brochure.
--For Immediate Release--

Maxon have just released their new 24pg Pancake Motor Brochure.
Maxon's Flat Motor Program Features:
>Brushless DC motors with external rotors
>Electronically commutated internal rotor motors
>Hall sensor and sensorless versions
>Models with integrated electronics
>6, 9.2, 10, 14, 20, 32, 40, 45, and 90 mm diameter versions
>0.2 - 90 watts rated
Characteristics of a Brushless DC Flat Motor:
>Ultra flat and simple design
>Sinusoidal commutation for smooth motion
>High dynamic performance
>High torque
>Long service life
>Low inertia
>Minimal detent
>Integrated electronics available
>Can be combined with maxon gearboxes and/or various feedback devices
>Optional IP40 sealing
>Economical cost through largely automated production
For more information, please contact:
EDITORIAL CONTACT:
Warren Osak
sales@electromate.com
www.electromate.com
Toll Free Phone: 877-737-8698
Toll Free Fax: 877-737-8699
Featured Product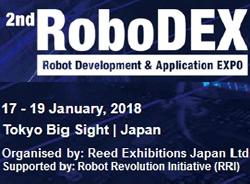 RoboDEX, a comprehensive trade show for robots, will be held at the center of robot/robotics industry, Tokyo, 2018. Covering from development technology of robots to application of robots, it attracts all the professionals involved in robot industry and professionals considering utilizing robots.