New slim-line L-force drive technology significantly reduces costs associated with manufacturing, commissioning and maintaining machines and automation systems
UXBRIDGE, MA - DECEMber 12, 2011 - Lenze Americas, a leading global manufacturer of electrical and mechanical drives, motion control and automation technology, recently launched the modular L-force I/O-System 1000, which incorporates intelligent electronics and an innovative mechanical concept to deliver a higher degree of value and machine automation functionality.

The slim-line Lenze I/O-System 1000 features a highly deterministic method of controlling input and output modules and the ability to read touch probe inputs required for synchronized movements in cyclic production processes. A minimal internal cycle time and a time stamp ensure the I/O-System 1000 is suitable for real-time-based architectures and can meet the most stringent automation speed requirements.
"The innovative I/O-System 1000 blends diagnostic ability, readability and labeling in an optimum compact configuration. The enhanced modular design ranks among the most effective and state-of-the-art decentralized I/O systems available on today's market," says Craig Dahlquist, Application Engineer, Lenze Americas.
Lenze I/O-System 1000 modules allow eight connection points in 12.5 mm of space on a conventional DIN rail. A clearly structured labeling and diagnostics concept includes easily identifiable status LEDs with a single labeling field uniquely assigned to each LED. An I/O 1000 station can be assembled completely without tools, with up to 64 modules configured to form a station using the integrated backplane bus. Digital output modules include a module with two integrated relays (DC 30 V / AC 230 V, 5 A). The product range includes function modules for connecting thermal resistors and thermocouples, a range of counter modules, and a module for evaluating encoders with an SSI interface.
Plug-and-play electronic modules eliminate the need for field wiring and simplify module replacement. Tension spring terminals and the block diagram on the housing help prevent mismating and facilitate a secure connection during installation and maintenance.
"With the Lenze I/O 1000 virtually all decentralized automation tasks can be realized in the simplest and most cost-effective manner, without sacrificing functionality and performance," adds Dahlquist.
About Lenze Americas
Lenze is a global manufacturer of electrical and mechanical drives, motion control and automation technology. Our products can be found in many industries, including automotive, packaging, material handling and logistics, robotics, and commercial equipment (pumps/fans). A global network of distributors and representatives makes Lenze Americas perfectly positioned to meet the motion control needs of customers worldwide. Lenze Americas, the American subsidiary of Lenze SE of Germany, is headquartered in Uxbridge, Massachusetts; corporate global headquarters are in Hamelin, Germany. Lenze Americas can be found online at http://www.lenzeamericas.com/.
Featured Product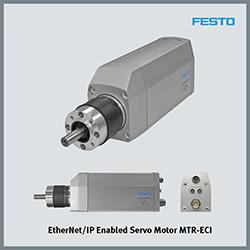 Mechatronic Motion Solutions from Festo is a unique system of components, modules, and software. It integrates all types of pneumatic, servopneumatic and (electro)mechanical automation motion and combines them according to your task. Irrespective of the control system environment you use, Mechatronic Motion Solutions always provides the appropriate interfaces. The fingers can be actively moved and their strength amplified; the operator's hand movements are registered and transmitted to the robotic hand in real time. The objectives are to enhance the strength and endurance of the human hand, to extend humans' scope of action and to secure them an independent lifestyle even at an advanced age.