GstarCAD2012 with its powerful functions and good performance as well as cost saving has received high praise from customers.
Beijing, China: January 16, 2012-- GstarCAD, leading 2D/3D CAD software provider announces that the newly developed GstarCAD2012 with its powerful functions and good performance as well as cost saving has received high praise from customers.

It is undisputed that whenever there is a new product being launched, customer will be curious and skeptical about it from different aspects. However, the recently released design-oriented GstarCAD2012 with its exclusive features as well as affordable price has proved to the customers worldwide of its high quality and gained extensive recognition.
In fact, GstarCAD2012 now has gone through clients' test and established a good reputation among them. "The new functions of GstarCAD2012 are amazingly powerful as they are displayed on the videos." Dave, the customer from America says. When asked where he got to know about GstarCAD2012, he smiled, "My friend introduced it to me." "I will also introduce this intelligent software to my friends!" He continues. Customers' keen interest to GstarCAD2012 is also can be noticed from the rising download rate and video views.
What's more, GstarCAD2012 changes clients' perception about design and is favorable for them. Customers from various industries of Architectural, Engineering, Manufacturing and Land Surveying speak highly of GstarCAD2012 and admit that GstarCAD2012 is powerful enough to meet their demands for new design. "Before using GstarCAD2012, I never thought that the design could be done in such a flexible way." One of customers from Italy says, "It gives me inspiration for design!"
About GstarCAD
GstarCAD is fast, powerful, .dwg-compatible CAD software for the AEC, mechanical, manufacturing, electrical, GIS, survey and mapping industries. The world-class 2D/3D CAD software platform is based on IntelliCAD technology.
GstarCAD's powerful functions, .dwg compatibility, and programming platform, are built on a cost-effective solution with an easy to user interface. Gstarsoft ensures that your design inspiration comes true.
Featured Product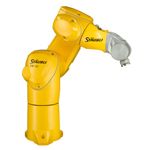 TX2 series of robots: the next generation of fast and precise 6-axis robots. This new robot range is redefining performance with the optimum balance of speed, rigidity, size and envelope. Those pioneer robots can be used in all areas, including sensitive and restrictive environments thanks to their unique features. Known worldwide for the quality of our design and innovation for more than a century, the Stäubli Group has brought its renowned engineering expertise and technological ingenuity to the forefront of robotics. Since 1982, we have built a highly regarded robotics business, and more significantly, transformed the way thousands of manufacturing operations perform. Today Stäubli Robotics is a leading player in robotics around the world, consistently delivering engineering as effective and reliable as our service and support.