The Industrial Automation Group of Advantech introduces two new Embedded Automation Computers, the UNO-3072A and UNO-3074A with Intel Atom D510 processor.
January 12, 2012 - The Industrial Automation Group of Advantech introduces two new Embedded Automation Computers, the UNO-3072A and UNO-3074A with Intel Atom D510 processor. Both models feature 2GB DDR2 RAM with an integrated RAID 0/1 controller for two 2.5" SATA HDD's and an external SATA port for additional storage. They are able to work in temperatures ranging from -10 ~ 60°C (14 to 140°F) and with shock/vibration absorbers for data storage security, they are ideal for many machine automation and warehouse tasks.

The UNO-3072A and UNO-3074A are designed with 2 x Intel Gigabit Ethernet ports to fulfill EtherCAT and Real-Time OS requirements; 4 x external USB 2.0 ports and 1 x internal USB port, VGA display, I/O programmable LED indicators, isolated DI/DO, and 2/4 x PCI slots respectively for versatile peripherals. They also include 2 x RS-232/422/485 serial ports with support for any baud rate, which enables their use in applications which require specific baud rates. Their IEEE 1394b connector and Gigabit LAN with a motion card allow the UNO-3072A and UNO-3074A to act as machine vision computing platforms as well.
An additional three I/O expansion kits are available separately: 2 x RS-232 with 1 x PS/2; 1 x LPT, and 2 x USB ports. The UNO-3072A and UNO-3074A support a variety of operating systems such as: Microsoft Windows XP Embedded, WinCE 6.0, Windows 7, Windows Vista/XP and Embedded Linux. All of this can be remotely managed using the Advantech DiagAnywhere Agent.
Advantech Corporation, Industrial Automation Group - Founded in 1983, the Industrial Automation Group of Advantech Corporation is a pioneer in eAutomation technology; combining connectivity, flexibility and ruggedness with today's most reliable PC-based automation technologies. Product offerings include: Open HMI platforms, Industrial Ethernet, Automation Controllers, Automation Software, Embedded Automation Computers, Distributed I/O Modules, Plug-in I/O, and Industrial Communication solutions for a wide array of industries. With more than 20 years experience in providing a full range of products to different vertical markets, the Industrial Automation Group is proving to be a globally leading Automation Product and Services provider.
Featured Product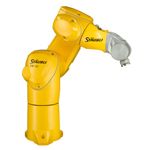 TX2 series of robots: the next generation of fast and precise 6-axis robots. This new robot range is redefining performance with the optimum balance of speed, rigidity, size and envelope. Those pioneer robots can be used in all areas, including sensitive and restrictive environments thanks to their unique features. Known worldwide for the quality of our design and innovation for more than a century, the Stäubli Group has brought its renowned engineering expertise and technological ingenuity to the forefront of robotics. Since 1982, we have built a highly regarded robotics business, and more significantly, transformed the way thousands of manufacturing operations perform. Today Stäubli Robotics is a leading player in robotics around the world, consistently delivering engineering as effective and reliable as our service and support.