ADTI to Deliver Sensors, Signals Intelligence (SIGINT), Detection, and Communications for Unmanned Drones and UAVs
Advanced Defense Technologies, Inc. announced today that the Company is designing the sensors, signals intelligence (SIGINT), detection, and communication systems for unmanned drones and UAVs. Global spending on drones is forecast to nearly double in the next decade, growing to $11.3 billion a year -- and suggesting a near-$95 billion market over the next 10 years, according to industry research firm Teal Group.

Global spending on payloads and subsystems for military and security purposes has jumped in recent years on the back of a surge in unmanned aerial vehicle (UAV) deployment. Behind the growing use of UAVs lies increasing eagerness on the part of governments worldwide to harness unprecedented intelligence, surveillance, reconnaissance, communication and attack capabilities provided by sensors and payloads carried by expendable aircraft.
R.S. Tahim, President and CEO of Advanced Defense Technologies, Inc. stated, "ADTI's technologies developed under several DOD SBIR programs have excellent potential for developing the next-generation systems to cater to the drone and UAV market. This area of military and homeland defense will continue to grow and ADTI is working to be at the forefront of this growing sector. ADTI is designing payloads and sensors that are capable of delivering more advanced imagery, stronger processing power, higher-capacity antenna systems, intensified electronic warfare (EW) capabilities and sharper intelligence."
About Advanced Defense Technologies Advanced Defense Technologies (ADTI) develops systems and technologies for the military defense and homeland security industry. The Company's system design technology has been developed under SBIR Programs with Government Agencies including NASA, DARPA, a prestigious defense contractor (Phillips Labs), and the US military (USAF, ARMY, NAVY and MDA). For more information regarding ADTI go to: www.theadti.com
Featured Product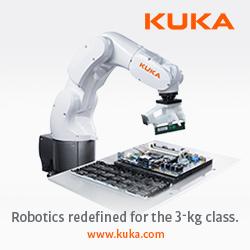 Great advances often start with small steps - in manufacturing cells measuring only 600 × 600 mm. Here, the KR 3 AGILUS is in its element. Particularly in the case of small parts and products which must be produced in a minimum of space. KUKA expertise, concentrated into the smallest of spaces, is setting new standards for the 3-kg class. The lightweight robot masters various tasks with agility, dynamism and maximum precision, leading to high flexibility in production - even when it comes to extremely narrow spaces.