Leading Global Consumer Electronics Manufacturer Selects Adept for Capacity Expansion
PLEASANTON, Calif., Feb. 22, 2012 (GLOBE NEWSWIRE) -- Adept Technology, Inc. (Nasdaq:ADEP), a leading provider of intelligent robots and autonomous mobile solutions, today announced it has received a $820 thousand dollar order for vision-guided robots from a major international consumer electronics manufacturer with major operations in southeast Asia. The order is expected to be fulfilled and recognized as revenue within the current and following fiscal quarter of 2012. The manufacturer, a Fortune 500 listed company, selected Adept to provide high-speed vision-guided robot systems for precision handling and assembly operations. Adept has been supporting the consumer electronics industry with high-precision mechanisms and controls in both standard and cleanroom configurations for over 20 years.

"Adept's robotics technology has been widely deployed throughout Southeast Asia with its heavy concentration of export-oriented electronics manufacturers. We are very pleased to have been selected again by this important customer for their production capacity expansion requirements," said Hai Chang, managing director of Asia operations for Adept Technology. "The customer's assembly application requires the alignment and assembly of many tight-tolerance components in fully-automated production lines. The precision components are presented to Adept Python™ cartesian robots in compartmentalized trays, and Adept's proprietary on-board vision-guidance systems are used to locate both the components in the trays as well as the precise locations of features on the target assemblies. The Adept Python linear modules offer up to +/-10 micron precision at speeds up to 1450 mm/sec to complete the assembly operations."
About Adept Technology, Inc.
Adept is a global, leading provider of intelligent robots and autonomous mobile solutions and services that enable customers to achieve precision, speed, quality and productivity in their assembly, handling, packaging, testing, and logistical processes. With a comprehensive portfolio of high-performance motion controllers, application development software, vision-guidance technology and high-reliability robot mechanisms with autonomous capabilities, Adept provides specialized, cost-effective robotics systems and services to high-growth markets including Packaging, Medical, Disk Drive/Electronics, and Solar; as well as to traditional industrial markets including machine tool automation and automotive components. More information is available at http://www.adept.com.
Featured Product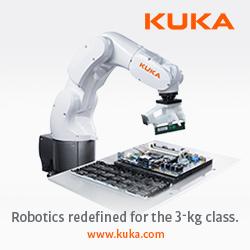 Great advances often start with small steps - in manufacturing cells measuring only 600 × 600 mm. Here, the KR 3 AGILUS is in its element. Particularly in the case of small parts and products which must be produced in a minimum of space. KUKA expertise, concentrated into the smallest of spaces, is setting new standards for the 3-kg class. The lightweight robot masters various tasks with agility, dynamism and maximum precision, leading to high flexibility in production - even when it comes to extremely narrow spaces.