Practical Large-Scale Robotic Manufacturing Coming
CAMBRIDGE, Mass., Feb. 24, 2012 -- Energid Technologies Corporation received funding from the National Science Foundation (NSF) under a two-year project to create robotic manipulation technology for cost-effective manufacturing. The work will make it easy for operators to achieve more with existing hardware capability.

Many time-consuming tedious tasks, such as moving and modifying objects, combining them, and inspecting them, do not require more precision, speed, or strength than what is available with off-the-shelf robots. Instead, they need better control software. Energid has demonstrated technical and market ability to improve the performance of robotic hardware through software, and is now focusing that ability on manufacturing.
"The technology will address a clear need in the robotics industry by building manufacturing capability on software that is already proven in other areas," said James English, CTO at Energid Technologies. "The results will be transformative."
The funding is a follow-on grant coming from the successful commercialization of earlier Energid work for the NSF. Under a previous grant, Energid developed grasping and manipulation software that is technically advanced and practical. Energid has received this new funding for manufacturing applications because of its earlier success.
Technology developments under this project will include ways to moderate hardware imperfections and track and control robotic tools directly to optimize their motion, independent of the underlying robot mechanism. This new capability will be leveraged into software for easy control by local and remote human operators.
"This grant will enable breakthrough technologies for tool control," said Chu-Yin Chang, an Energid Principal Engineer on the project, "which will in turn enable easy deployment, and redeployment, of robots."
The results will specifically support hard manufacturing tasks, such as placing through-hole components and assembling intricate parts, giving new labor efficiency in manufacturing.
"Low-cost robotic manufacturing will enable system-wide changes," said David Askey, Chief Business Development Officer at Energid. "It will allow manufacturing to be done closer to consumers in the U.S., which will lower costs and improve the U.S. manufacturing base."
Work on the project will be done in Massachusetts, Texas, and Arizona. The project is funded through NSF grant 0848925.
For additional information, contact Mary Salzman, (888) 547-4100 x 420.
About Energid Technologies Energid Technologies develops robotic systems and products for the aerospace, agriculture, transportation, manufacturing, defense, and medical industries. Energid's Actin(TM) and Selectin(TM) products provide advanced technology in the form of extensible software toolkits. Energid specializes in sensing, communications, control, and simulation for complex systems.
Featured Product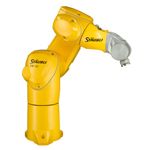 Stäubli offers a complete range of robotic tool changing systems for payloads of 20 kg to 1,530 kg and torsion moments from 30 to 12,500 Nm, designed for use in virtually every industry. The tool changers adapt to customer-specific applications with different modules for media, data, power, etc. The new MPS 130 robotic tool changer is powerful, very robust, and designed for a huge range of applications. It features multiple couplings for air/vacuum connections, and can be equipped with connectors for data and electrical transmission. Very compact dimensions, with a coupled height of only 67 mm, make the MPS 130 the first choice for applications requiring a high number of mating cycles.