LMI Technologies' revolutionary Gocator all-in-one 3D smart sensors enter the burgeoning Korean manufacturing sector through new distribution partner, Dasan Newtech
LMI Technologies, a global industry leader in 3D laser measurement and control sensor technology, announced today that Dasan Newtech has signed on as a certified distributor for Gocator all-in-one 3D smart sensors in Korea. As a result of this new partnership agreement, Gocator sensors enter into the burgeoning Korean manufacturing economy through Incheon based Dasan Newtech.

Gocator laser line smart sensors are all-in-one solutions that make 3D measurement and control for factory automation accessible to all levels of expertise. All Gocators come with a web browser based user interface and optional built-in measurement tools making them easy to use and integrate. Users can easily perform inline part inspection for 100% quality control, communicate results (either directly or to a PLC), and automate sorting and tracking functions.
Models come in different fields of view and measurement ranges to ensure there is a preconfigured Gocator for every application. Gocators are available in both VGA and Megapixel resolutions in order to accommodate the varying speed and accuracy requirements of factory automation. Gocators can also be combined into multi-Gocator systems to fully accommodate large items or to measure a single item from multiple perspectives.
"With a growing shift towards 3D within Korean manufacturing businesses, our partnership with Dasan Newtech is an exciting one," said LMI's Director of Sales, Kevin Brown. "The continued evolution of Korea's manufacturing sector presents a unique stage for Gocator's innovative technology to shine. We believe that Dasan is the ideal partner for us as we tackle this highly lucrative opportunity."
"Korea's manufacturers are creating a demand for powerful 3D machine vision that is easy-to-use and Gocator sensor products are the right solution to meet this need," commented Dasan Newtech's President, Jin Cheol Kim. We are excited to be working with LMI and bringing the state-of-the-art Gocator sensors into our product portfolio as well as to Korea's growing manufacturing sector."
Product experts from LMI Technologies have provided Dasan Newtech with comprehensive training program. Dasan will receive continued sales support to help them rapidly promote and sell Gocator products through their respective sales channels throughout the Korean peninsula. Dasan Newtech is now able to field questions from Korean companies regarding Gocator sensors as well as having related information posted on their corporate website - http://www.dsnt.com.
About LMI Technologies
An AUGUSTA Technologie AG group company, LMI Technologies Inc. (LMI) is a global leader in 3D sensor measurement technology for industrial measurement and control applications. Over 100 patents and 30 plus years of sensor expertise has gone into over 60,000+ sensors and licensed products that operate in some of the harshest working environments imaginable. LMI's technology supports the 3D measurement needs of many of the world's largest OEMs and System Integrators in industries such as molten metals, welding, tire manufacturing, wood processing, livestock, automotive, and transportation.
Featured Product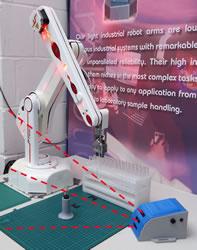 The 6-axis version of the R17HS high speed variant of the R17 robot is now available. As is our policy the 6th axis is an optional bolt-on module. At the same time we have made it even faster and new software eliminates shake and greatly improves repeatability as this video shows. Please see https://www.youtube.com/watch?v=3wG0MeiJ-yE. The video would seem to imply a repeatability of 0.01mm but we are sticking with 0.2mm in the spec. The motor specialist was able to tune the motors from the other side of the pond. My first reaction when we put power on and entered the first commands was to jump back in amazement (and maybe an expletive). Tip speed is now 3m/s; that's 3 times as fast as its nearest competitor yet costs half the price. I love it when a plan comes together.